Canada as a world-class basketball power? Basketball, the game they play in sneakers and not hockey skates?
Hold that yuk! Stifle that guffaw!
"Basketball? Isn't that the game Steve Nash plays? He's the only Canadian basketball player I've ever heard of."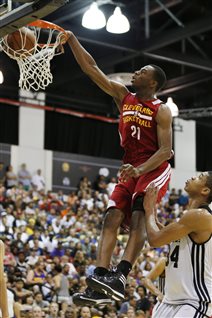 Fact is, in the not too distant future, Canada could seriously flex its basketball muscles.. Maybe in time for the 2016 Olympics in Rio. If not, likely–if all goes well–by the 2020 Games in Tokyo.
Remember, it was a Canadian, Dr. James Naismith, who invented the game in the first place, albeit at Springfield College in Massachusetts.
Ponder these facts:
*The last two top draft choices in the National Basketball Association, Anthony Bennett and Andrew Wiggins, are Canadians.
*Of the first 18 players chosen in this year's NBA draft, three are Canadians.
*Canada could have as many as a dozen players in the NBA this season, trailing only the U.S. (though to be sure by a wide margin) in the number of players.
* Las Vegas has made superstar LeBron James's Cleveland Cavaliers the favourites to win the NBA title this season. At this point, four of James's teammates are Canadians: Bennett, Wiggins, Tristan Thompson and Dwight Powell.
All come out of Toronto, where young people take the game very seriously. They are also very good.
Couple the cost of hockey equipment and changing demographics and you've got the makings of something special.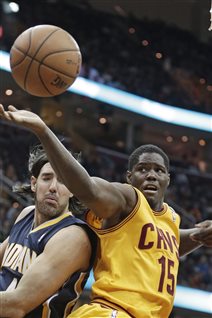 There are plenty of people working toward it, including Nash, the national team's general manager and a two-time NBA MVP, and former Toronto Raptors coach and long-time national team star Jay Triano.
On Tuesday, the national team wrapped up a three-day training camp in Toronto. On Thursday, the team departs for Europe for a series of 11 exhibition games in Europe. The trip aims to toughen up the team for the FIBA Americas tournament in August, 2015, a qualifying stepping stone to the Rio Olympics
It also comes tour comes after the Canadians failed to qualify for this summer's FIBA World Cup in Spain.
Whether Nash and Triano can can whip up an Olympic calibre team in time for Rio remains unknown. Sceptics brand it unlikely. Supporters say it's a definite possibility. One thing is certain. It's a mug's game to bet against anything Steve Nash sets out to do.
Is Canada on the cusp of basketball greatness?
Wayne Parrish is the president and CEO of Basketball Canada. He spoke by phone with RCI's Terry Haig about the glowing present of Canadian basketball, the reasons for it, and what he hopes the future will hold.
Listen