It's equal parts, technology and social experiment.
Hitchbot, a low-tech exterior with a high-tech interior, is a robot of sorts hitch-hiking on its own, several thousand kilometres across Canada from Halifax on the east coast, to Victoria on the west coast.
Co-creators Frauke Zeller is assistant professor in the School of Professional Communication at Ryerson University, Toronto,   and Daved is assistant-professor in the Department of Communications Studies, Faculty of Humanities, McMaster University, Hamilton.
Listen
The idea of it's creators is to examine the interaction between robots and humans as it relies on humans to pick it up and transport it further along it's journey.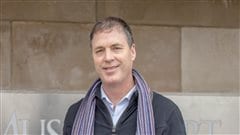 Along the way it will record sights and sounds and conversations, and hopefully not encounter any misfortune.
About the size of a small child, it waits on the side of the road for someone to stop, fold up it's rear tripod, and with its child booster seat attached, be placed in a vehicle and carried some distance down the road, where it will be placed at the roadside with thumb up, hitching for another ride.
The low-tech is the body made from parts available from any local hardware store, including for example foam "pool noodles" for arms and legs.
The "robotics" in one sense is very limited to a movement of the "hitching" arm.  However, the real high-tech parts are the internals; wireless communications, camera, speech capability, GPS and so on.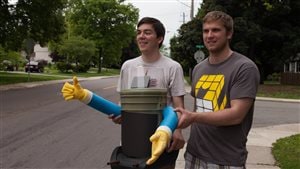 For example, ask it a question and it could give you the answer by accessing Wikipedia.
Powered by solar cells, it can also be plugged in to the vehicle cigarette lighter if it's power runs low.
Harris and his daughter drove Hitchbot from Hamilton, Ontario to it's starting point in Halifax on the east coast this past week
Placed on a highway just outside Halifax this Sunday, it didn't take long for Hitchbot to snag it's first ride of about 300 kilometres into the neighbouring province of New Brunswick.
The couple that gave him his first "lift" said they had heard about the project on the radio and were thrilled to be able to be a part of it.
Professor Harris says, once Hitchbot makes it to Victoria (presuming kind treatment along the way), he and professor Zeller are looking at adding other languages and perhaps setting it off on other adventures around the world.