A ceasefire is not enough and unless there is a complete lifting of the blockade of  Gaza, the cycle of violence will begin again, says Arwa Mhanna, an Oxfam communications officer in Gaza, speaking from Montreal.
At the last ceasefire in November 2012, Israel committed to easing the blockade of Gaza and improving the lives of civilians, and those promises were not kept, says Mhanna. She warns there is a risk the same will happen again.
Listen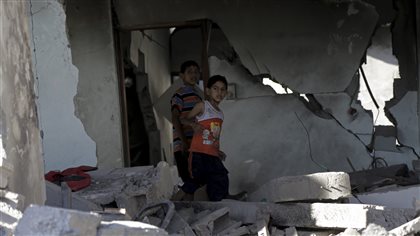 'Basic humanitarian needs are not met'
Because of restrictions only three students in the last 14 years have been allowed to cross into the West Bank to go to university, she says. The number of trucks entering Gaza is only two per cent of what entered before the blockades were imposed, the economy is devastated, many factories have been destroyed and unemployment is high.
"The very basic humanitarian needs and services are not met in Gaza," says Mhanna, noting that water services are dramatically reduced,health services are overwhelmed and for many there is only four hours of electricity a day.
'Cease failure,' urges Oxfam report
Long-term peace will require not only an end to the violence, but also "an end to policies that have reduced a once vibrant economy to dependency on international aid," says an Oxfam report entitled Cease Failure: Rethinking seven years of failing policies in Gaza.
It recommends international personnel monitor ceasefire violations and ensure border inspections. It asks for more diplomatic engagement with the Palestinian unity government.  It wants goods essential to Gaza's recovery to be allowed through the Kerem Shalom commercial crossing, and that people to be allowed to move freely between Gaza and the West Bank.
Seeking Canadian residency
Mhanna herself travels on a Palestinian passport and has to negotiate long and involved processes at border crossings. And in the end she is never sure she will get through. She is now in Canada seeking permanent residency. She hopes achieving that will make it easier for her to move in and out of Gaza to continue to "fulfill her humanitarian duties."