Many adolescent girls in developing countries expect to be victims of violence and just over half say they never or seldom say what they think, according to a large survey by the aid group, Plan International. While Canadian girls fare better, they do share some of the fears and constraints of their counterparts.
With input from Canada, the United Nations two years ago declared October 11 to be International Day of the Girl Child to raise awareness about gender inequality. In advance of it, Plan International spoke with more than 7,000 girls aged 12 to 16 in 11 countries in Asia, Africa, Central and South America. Plan Canada also conducted a smaller focus group with 70 girls in Canada to understand their issues and fears. The findings were compiled in a report called Hear Our Voices: Do Adolescent Girls' Issues Really Matter?
Listen'Results…were shocking'
"The results of this report…were shocking," says Sarah Hendriks, an advisor for Plan International and Plan Canada. "While many of the findings aren't necessarily new, I really feel that we cannot ignore the level of injustice outlined in this study, especially as it brings in hard data, but also in lived voices, the real realities that girls face into vivid colour."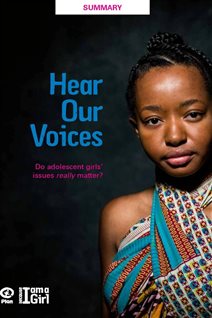 Globally, one in three girls in the developing world will be married by age 18. Plan researchers found that 39 per cent of the girls they spoke with said girls are never or seldom able to decide about their own marriage. 53 per cent said adolescent girls never or seldom got to decide whether to become pregnant. Violence against girls "is frighteningly normative," says the report. Girls seldom feel free of it whether at home, in communities or at school.
Fears for personal safety
Girls in Canada too expressed fears for their personal safety when travelling to and from school, work, social outings and just going about their business. Many felt they were targets for assault because they are girls. And they wanted authorities to stop putting the onus on them to stop violence, saying boys and men need to take responsibility.
Some of the Canadian girls also expressed a reluctance to speak up.
Positive news about schooling
On the positive side, 41 per cent of the girls said that in their developing countries girls always or often complete at least nine years of school, and 72 per cent said girls were often or always encouraged to succeed in their school work as much as boys.
Plan concludes that "things are getting better for girls—though far too slowly in many areas." Hendriks hopes that the hard data in the report as well as the personal stories of adolescent girls will spur action to improve their situations.