Le Studio, in Morin Heights, Quebec, just north of Montreal, was the setting for some of the great albums of the 1970's and 1980's but it has been silent and neglected for years. Now for sale, a piece of Canadian history, and musical history may soon be demolished.
It all began with the sound recording genius of Andre Perry. In 1969 he was thrust into the spotlight as a result of recording John Lennon and Yoko Ono's 'Give Peace a Chance' song, during the 'bed-in' at the Queen Elizabeth Hotel in Montreal. John Lennon was so grateful for the brilliant work, he put Perry's name and address on the label of the record.
By 1974 Perry and his wife, Yael Brandeis, opened the studio in the Laurentian forest by a lake.  This oasis brought musicians to retreat and record on the state of the art technology at the time. Some of the great albums of the past came out of this studio.  The Police recorded 'Ghost in the Machine' there as well 'Synchronicity', including the single,'Everything She Does is Magic'.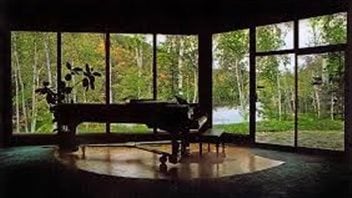 The Bee Gee's did two albums including Saturday Night Fever in Morin Heights.  Keith Richards did his solo project, Talk is Cheap. Bryan Adams did Cuts Like a Knife and David Bowie recorded 'Tonight', to name just a few.
André Perry sold the place to the Spectra Group, the people behind the Montreal Jazz Festival. Then it was sold to a numbered company, but the building was not maintained, and with a sagging roof and water pooling inside, it's a dangerous place for the pilgrims and fans who come to see where their heroes recorded.
"There was a soul there and the soul is long-time gone now," said Perry in an interview with CBC News. "For me, what is there is what was there — the memories — and not what is there now."
The Canadian band Rush, who are currently on tour, recorded eight albums at Le Studio. Neil Peart, the drummer visited the site in 2010 and was very saddened by what he found.  There is a facebook campaign to save the studio
This is a list of the musicians who went into Le Studio, and the albums that came out:
April Wine — First Glance, Harder…Faster
Bryan Adams —​  You Want if You Got It, Cuts Like a Knife (mixed at Le Studio)
Bee Gees  —​  Children of the World, Saturday Night Fever
David Bowie  —​ Tonight
Cat Stevens  —​  Numbers, Izitso, Back to Earth
Chicago  —​  Chicago 13
Julien Clerc  —​ Julien Clerc
Roberta Flack  —​ Roberta Flack
Serge Fiori  —​ Serge Fiori
Glass Tiger  —​  The Thin Red Line
Corey Hart  —​ Boy in the Box, Fields of Fire
Luba  —​ Between the Earth & the Sky
Kate & Anna McGarrigle —​  Love Over and Over
Kim Mitchell — Shakin' Like a Human Being
Nazareth  —​ Close Enough for Rock'n Roll, Play'n'the Game, Expect No Mercy
The Nylons — Rockapella
Northern Pikes — Secrets of the Alibi
Paul Piché — Paul Piché
Wilson Pickett — I Want You
Pilot  —​ Morin Heights
The Police  —​ Synchronicity, Ghost in the Machine, Every Little Thing She Does is Magic (single)
The Ramones  —​  Leave Home (mixed at Le Studio)
Keith Richards  —​  Talk is Cheap
Rush  —​  Permanent Waves, Signals, Moving Pictures, Grace Under Pressure, Presto, Roll the Bones, Counterparts
Sting  —​  Dream of the Blue Turtles
Vladimir Vysotsky —​ Vladimir Vysotsky
Nanette Workman  —​ Nanette Workman