Azzeddine Soufiane, 57, Khaled Belkacemi, 60, Aboubaker Thabti, 44, Mamadou Tanou Barry, 42, Ibrahima Barry, 39, and Abdelkrim Hassane, 41, were shot and killed Sunday night–as they prayed at their Quebec City mosque where 19 others were wounded.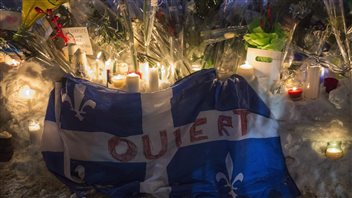 So, as Canadians in general and Muslim Canadians in particular begin to try to cope with the after-effects of this horrific event, we might ponder where help can be found.
They may do no better than the federal member of Parliament Louis-Hebert, the the riding where the Centre Cultural Islamique de Quebec sits.
His name is Joel Lightbound. He's 28-years-old and he grew up in Quebec City.
The Quebec City Muslim community numbers about 10,000 people. Lightbound knows them well.
Many in his apartment building where he grew up were Muslims, some of his soccer coaches were Muslims, many of his school chums were Muslims, many of his current friends are Muslims.
Lightbound, who is the Parliamentary Secretary to the Minister of Health, Jane Philpott, was just arriving in Ottawa Sunday night to take up his seat in the House of Commons when the attack occurred. He immediately turned his car around to return home, to be with friends–and friends of friends–he has known all his life
I had the honour of seeing him for the first time on Monday evening when I returned home to find my wife, Mireille Cléroux, on the verge of tears, a state where she had spent much of the day after learning of the attack.
A lot of other Canadians also spent their Monday crying, but it wasn't until the combination of my wife's tears and a television interview with a man I had never heard off before brought home the enormity of what had happened at that mosque in Quebec City, busy as I had been all day striking a computer keyboard writing about it.
There was the CBC's Rosie Barton, one of our finest journalists, interviewing Lightbound, speaking from Quebec City as he prepared to attend a vigil for the victims later that evening.
He struck me as every little kid's dream big brother. He was kind, smart and generous of spirit. When he spoke, he knew what of–and who of–he spoke. This man, very obviously, was the real deal.
I knew I had to speak with him on RCI, if only to provide hope to the many so discouraged by recent events both in Canada and around the world.
Here is our conversation.
Listen