'Yusra' is the name of the benefit concert being organized for Friday February 10th, 2017 at Montreal's landmark Rialto Theatre.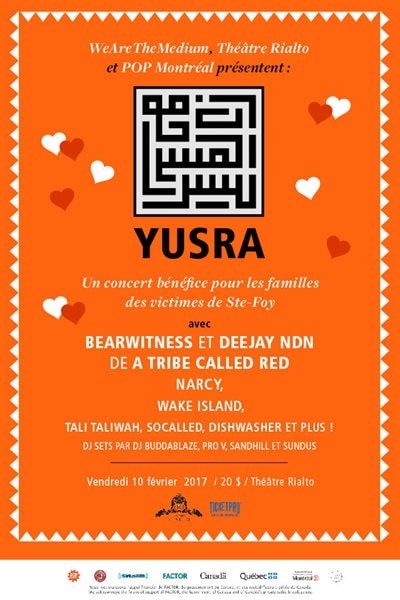 Yassin Alsalman, a Montreal musician, actor and multi-media artist is organizing the event. He explains that the word comes from a saying in the Koran, that after every hardship comes ease; yusra is the ease.
"It just broke my heart, you know, for people to get shot in any place of worship"
"We used that word because we wanted to put together an event to bring ease to the families who are going through an extremely difficult time right now" he says.
He has support from the people behind Pop Montreal, the Rialto, and all the artists volunteering their talent.
"I think it's very important for us as artists, as organizers of events to come together to use our social space for positive things, so I believe that it was our responsibility or at least my responsibility, to help galvanize this community together to raise funds for the families of the victims."
Listen
Alsalman, of Iraqi heritage, describes being in shock when he first heard the news that night, of January 29th, 2017. Six men had been shot and killed, 19 others were injured at the mosque in Ste. Foy, near Quebec City.
"It just broke my heart, you know, for people to get shot in any place of worship, whether it be a church, a synagogue, a mosque, a Bhuddist temple, you know anywhere where people are bowing down to a greater, higher force, it's extremely heartbreaking."
"I reached out to them because I know the intersectionality of our struggles"
But like many in the Canadian-Muslim community, he embraced the larger Canadian response. "It was a beautiful display of community, gathering and togetherness, for them to stand by Muslims, it meant a lot"
Alsalman, who also teaches at Concordia University, says however, "the problem that birthed this shooting was not addressed by anybody." He says the Islamaphobia or racism or xenophobia, whatever term people would like to apply has not been discussed. He says even the media has been silent on the issues.
Alsalaman says when he heard which mosque was the scene of the shootings he knew immediately that it was not another muslim responsible. This was the same mosque where a gift-wrapped pig's head had been left by the door last year during Ramadan, the holy month of fasting for Muslims.
"We have a lot of work to do but I was very proud to be from a place where, or to live in a place where we were showing ultimate respect to each other, and love to each other, it meant a lot."
The line-up for the show includes the very popular indigenous DJ's known as a 'Tribe Called Red'. The 3-member group are now good friends with Alsalman, who is also a performer who goes by the name of 'Narcy'.
Alsalman produced 'A Tribe Called Red's" latest video and is nominated for his first Juno Award for the work. 'A Tribe Called Red' is nominated in several other categories and they will all be in Ottawa on April 2nd, 2017, at the televised awards show, supporting each other. He describes them as brothers in his musical family.
"I reached out to them because I know the intersectionality of our struggles, their political and social stance on injustice, it's very similar to mine, so they were the first people i reached out to and the they immediately said yes."  Alsalman says.
With Deejay NDN and Bear Witness of a Tribe Called Red. the line-up has now grown to include Lunice, Ariana Zita, Socalled, Koriass, Nomadic Massive, Wake Island, Dishwasher, and Tali Taliwah among others, 
Co-produced by We Are The Medium, Pop Montreal and the Rialto Theatre, the $20 (Cdn) tickets are going fast.