Things have always gone missing from the Canadian military, as is probably the case for a lot of military forces. This is often because of the rushed nature of missions around the world, or even the inherent confusion of large-scale military exercises.
Still, Radio-Canada compiled data from reports over the last decade and found that about $10 million worth of items have disappeared from the military inventory.
Most of the items are classed as "military equipment": such as bulletproof vests, helmets, boots, even firearms.
Other equipment is listed as tools, transportation and communications equipment.
The annual losses had an enormous spike between 2012-13 as Canada was wrapping up its mission in Afghanistan. About $7 million in equipment was lost or stolen, some of that from a port in Pakistan.
The government notes that the Canadian military has in its inventory over 600 million items.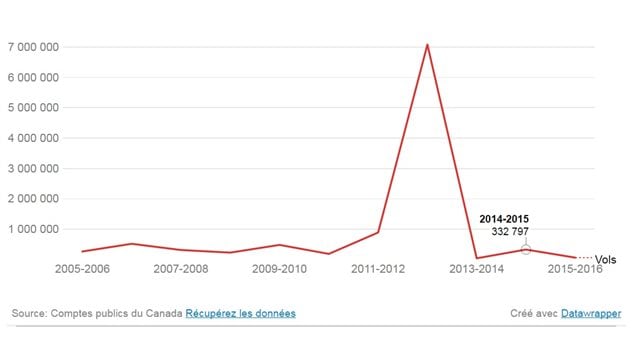 However, experts note that besides the potential for some of the weapons and equipment to fall into the wrong hands, the loss of 150 computers could also compromise security.
The military says it has been reviewing its inventory management practices since 2012 and developing  more supervision and  integrated technology to track items in real time.
A spokesman also says all reports of lost or stolen weapons are investigated and "every effort is made to account for weapons used on missions'.
Conservative pary  defence critic Pierre Paul-Hus says better tracking is important as Canadian troops are now it Iraq, and as the Canadian military prepares for a mission to Latvia with NATO.
Additional information-sources