A small, family-run business has created a new palette of yarns to mark the 150th anniversary of Canada's confederation. Each colour was inspired by one of Canada's national parks such as the famous Banff National Park in the western Rocky Mountains and the less well-known Sirmilik in northern Canada.
There are 13 new Hand Maiden Fine Yarn colours, one chosen from each province and territory, and illustrated on a map of Canada.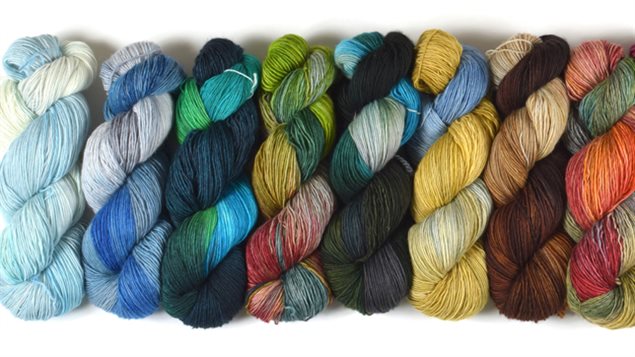 'It's a big beautiful country'
Fleece artist, Jana Dempsey says she wanted to do something to mark the anniversary and, as she spent time camping in national parks last summer, she thought they would be a great source for new colours.
"I think it has struck a cord as the colours evoke nostalgia, like summer camping as a child, and a sense of wanderlust of places we would love to visit," writes Jana Dempsey, the fleece artist who conceived the idea. "It's a big beautiful country out there."
Artisan started company to supply students
Fleece Artist was established in 1978 by Dempsey's mother right beside the Nova Scotia College of Art and Design in eastern Canada. Its goal, at first, was to supply textile artists with natural fibres. A demand for better colours prompted the artisans to start dyeing the yarns themselves.
Dempsey branched out and founded Hand Maiden Fine Yarn Inc. The two companies recently merged and now create their yarns out of the same studio in the eastern city of Halifax.
Demand for the Canada 150 yarns has been strong. Says Dempsey,  "We have been overwhelmed by the response and are busy dyeing more yarn."