Broadband and internet services in Canada, like cell phone services are among the most expensive in the world.
And today, a parliamentary committee's recommendation that new taxes be applied to broadband service, was immediately rejected by the Prime Minister during a press conference.
"We're not going to be raising taxes on the middle class through an internet broadband tax."
When asked by reporters at a gathering to announce a new light rail system in Montreal, Trudeau was clear:
"We respect the independence of committees and Parliament and the work and the studies they do, but allow me to be clear: We're not raising taxes on the middle class, we're lowering them," he said during the event in Montreal. "We're not going to be raising taxes on the middle class through an internet broadband tax. That is not an idea we are taking on." he said. 
Meghan Sali, of the lobby group Open Media, says "It's a huge win for Canadians."
Listen
The tax had been proposed to offset the losses the Canadian Media Fund is experiencing as more and more Canadians cut the cable TV cord.  The CMF, which funds Canadian productions, currently receives a levy on cable bills.
Open Media suggests the fund could be boosted with a portion of the proceeds from spectrum auctions, or, levying a digital sales tax on products and services that are online, or simply taking from the general revenue base."What I think Canadians have clearly said is they can't afford to pay anymore every month than they already are for acceess, especially when internet access is so much more than Netflix, it's so much more than content for so many people, it's access to essential services, it's health services, it's education services, it's employment opportunities." Sali said.
Meghan Sali says other changes are great victories for the group as well. Unlock fees for one.
As of December 2017 Canadians will no longer have to pay to bring their phones to another provider. "It was always an extra added fee that really had no jusitification, it was an opportunity to price gouge, so it's great to see that eliminated." Sali says.
Statement shock will also become obsolete. Sali says the group had been lobbying for these changes for many years. Statement shock refers to surprise charges and extra fees one doesn't understand on a bill.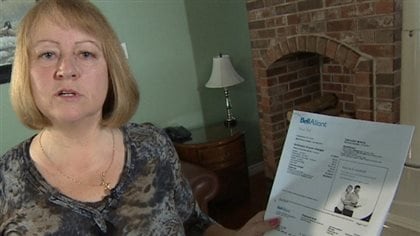 Sali says the new Wireless Code, which went into effect in 2013, was updated today. "It's creating clarity as well for Canadians about what exactly they were paying for and when and why."
And finally, for families on shared plans, the common sense approach to overage charges will now, finally, be applied.
"It you've used over $50 (Cdn)  in overage charges your cell-phone provider has to let you know. Unfortunately on shared and family plans, many of those notices were going to children on a plan, or they were going to somebody else who wasn't the actual account holder. So this is something that has been remedied by the most recent round of updates to the Wireless Code."
Meghan Sali says the battle continues, however, with the demand for price relief in cell phone service. The three large cell-phone providers will not allow mobile virtual network providers. (MVNO'S).
Sali says Canada's Minister of Innovation, Science and Economic Development, Navdeep Bains, made it clear to the Canadian Radio-television Telecommunications Commission (CRTC) that this is the next frontier, and that these businesses must be accommodated in the Canadian market to allow for greater competition.