Canada 150, the celebration of this country's sesquicentennial anniversary of confederating, is being eclipsed by the indigenous experience in Nova Scotia.
Just Us!, the coffee shop in Grand Pre, Nova Scotia put up the statement on the sign, to the delight of the many in the three neighbouring Mi'kmaq communities; Glooscap, Annapolis Valley, and Bear River. 
"I hope people think about it even for five minutes as they're driving down the road."
Just Us! general manager Joey Pittoello, told Rosemary Barton of CBC's Power and Politics, that he and the other employees often discuss what to put up on the sign, and that they are aware of their position on unceded indigenous territory.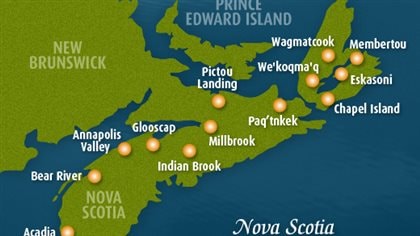 And in an interview with the Huffington Post he said they did not mean it to be anti-Canadian in any way.
"It was meant as, we need to recognize multiple communities in our country and some of them get under-represented, I think," he said.
After the photo of the sign was posted on the shop's facebook page, the reactions were many and varied.
Calvin Slade commented that the sign is "Undermining Canadians at a time of celebration."
And Mike Adcock added: "Really? Can't just celebrate Canada day without virtue signalling?" 
But some of the positive comments were effusive.
Krista MacNeil did not hold back: 'Love love love the thought provoking message. Will be sure to visit whenever in Mi'kma'ki,
Neither did Patty Crow. 'I am now a customer simply because of this phenomenal sign. Amazing. You rock! Thank you for being one of us!!!!!!!!"
Joey Pittoello told The Chronicle Herald that they intend to keep the sign up until July 1st, Canada Day.
"Unless another interesting topic comes up," he said.
"We're happy that the feedback we've been getting, mostly online through social media, is dominantly positive," he said, adding that regular patrons would not be surprised by it in the least because the purpose of their social-enterprise is to maximize social impact, not just profit.
"But we knew there was a risk when we put the sign up," he said. 'It challenges status quo. It challenges all of us," said Pittoello.
"I hope people think about it even for five minutes as they're driving down the road."
"It's important to recognize where we are and try to reconnect with those with that living heritage," he said. "The important part is reaching out, and I think if the door is left open, it can help that re-connection.
(With files from The Chronicle Herald, Huffington Post, CBC Power & Politics)