Irma, the largest Atlantic hurricane in recorded history meteorologists are saying, has Canadian airlines scrambling to get extra flights on their routes to various destinations to get people out.
The hurricane is tracking over the northeast Caribbean today,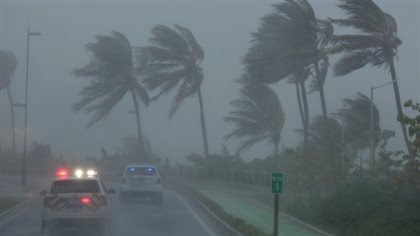 "A very strange mix of terror and humour"
Catastrophic is how meteorologists are describing it, with sustained winds of almost 300 km/h. These conditions put Irma on par with three of the largest in history.
Adrianna Prosser of Toronto, is in a resort in Punta Cana, on the eastern tip of the Dominican Republic.
She told CBC News earlier today that they had no success trying to contact their tour operator.
"Some of us are just stranded," she told Suhanna Meharchand, and went on to describe it as "a very strange mix of terror and humour at the same time."
"We're hoping we just get the tropical storm and not the hurricane" Prosser said.
Air Canada has waved change fees on their flights and they're trying to contact people to get them on the flights.
Meanwhile, Air Transat, a popular Canadian tour operator in the Caribbean, has put on several larger aircraft on their routes to accommodate the people who want to come home.
Westjet is also operating under evacuation protocols in the Caribbean.
And out in Atlantic, the next hurricane, Jose, is now churning up his force.
With files from CBC