Prime Minister Justin Trudeau will travel to New York City next Tuesday to lead Canada's delegation at the opening of the 72nd Session of the United Nations General Assembly (UNGA), the Prime Minister's Office announced Wednesday.
Trudeau is expected to deliver Canada's national address to the 193 members of the UNGA on Sept. 21.
Trudeau's speech at the high-level forum is expected to touch on the themes of Canada's commitment to strengthening multilateralism and the rules-based international order, advancing human rights, gender equality and women's empowerment, and championing diversity and inclusion.
"In building a better world, multilateralism is the recognition that we are stronger when we stand together," Trudeau said in a statement. "Canada believes our collective peace and prosperity can only be achieved through diverse and meaningful partnerships."
Speaking to reporters on Wednesday, Trudeau confirmed that his government is actively working on securing one of the 10 non-permanent seats on the UN Security Council, elected for two-year terms by the General Assembly.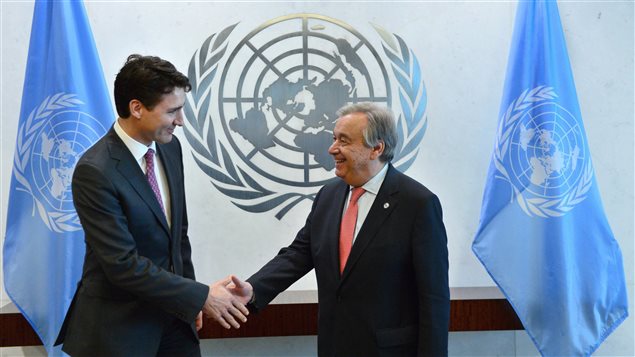 However, Trudeau's Liberal government has come under an increasing pressure to honour its pledge to deploy a large contingent of Canadian peacekeepers, marking Canada's return to more robust participation in UN peace operations.
In August 2016, the Trudeau government pledged 600 troops, 150 police officers and $450 million over three years in support of UN peace operations as part of its much heralded re-engagement with the UN.
But despite the promise of deeper international engagement, Trudeau has remained elusive on his pledge to deploy Canadian peacekeepers to one of the many of the world's troubled spots even as Canada prepares to host the UN Peacekeeping Defence Ministerial forum in Vancouver in November.
While in New York, Trudeau will also receive the Global Citizen Award at the Atlantic Council dinner on Sept. 19.
"As prime minister, Justin leads a government that works hard every day to build an economy that works for the middle class and people working hard to join it," said a statement by the Atlantic Council. "His team is focused on creating new jobs, fostering strength out of Canada's rich diversity, fighting climate change, and achieving reconciliation with Indigenous Peoples."
President of the Republic of Korea Moon Jae-in and world renown pianist Lang Lang will also receive the award.
On Sept. 20, Trudeau will speak to thousands of youth at WE Day New York, an event that celebrates youth making a difference in their local and global communities, and participate in the Bloomberg Global Business Forum.