Hydro workers from several eastern Canadian provinces are now in Florida and Georgia helping to restore power.
Listen
 "They've been devastated down there."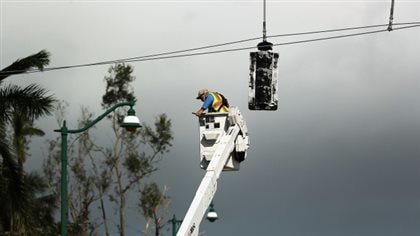 U.S. government officials warned it could take weeks for power to be fully restored, and work continues to reconnect power lines in Houston and Texas after Hurricane Harvey.
It's estimated a quarter of the state of Florida is without power, leaving 13 million people in the dark.
Hydro Ottawa is one of 29 utilities belonging to the North Atlantic Mutual Assistance Group, whose members deliver not-for-profit assistance during times of crisis.
Tori Gass, spokesperson for Toronto Hydro, said the crews left from Toronto following a call from Florida utilities on late Monday.
"They've been devastated down there. We've been seeing the pictures and the images coming out of Florida. It's quite severe. It's destruction everywhere. One of the big things is that the power is out to millions of customers," Gass said.
"This is a bit far for us to be going. I'm not even sure we've been this far before. But that just speaks to the devastation that's down there," she said.
"We'll be doing whatever is necessary to help them do repairs and get the power back up for those customers who really need it right now."
Gass said the crews brought their bucket trucks, a convoy of 15 of them, and Toronto Hydro expects most of the work to involve fixing overhead wires.
Close to 4.5 million homes and businesses lost power in the hurricane that made landfall in the U.S. early Sunday, and utility officials say it will take weeks to restore electricity in the state.
The maritime provinces of Nova Scotia, New Brunswick and Prince Edward Island sent teams down, as well as the prairie province of Alberta.
Hydro Quebec sent 50 crews who should be arriving this evening to help out in the state of Georgia.
Louis-Olivier Batty, a spokesperson for Hydro Quebec, said the team of 125, includes linesmen and technicians and some management employees, were waiting for the call,
They had expected to be going to Florida, but the city of Atlanta in Georgia, is in need of emergency help.
With files from CBC