Women in Tech World is the social start-up by a group of women, to take stock of the role of women and the presence of women in the growing high tech industry.
Despite the boom of tech industries in Canada, women remain at around 25 per cent of the workforce.
This figure is not growing so Alicia Close and co-founder Elena Yugai decided to go on a fact-finding mission.
Listen
Along with some other volunteers, in a 1991 Winnebago RV, they are visiting communities across Canada for a grassroots survey of the conditions.
It's an effort to build a community for women in tech and help provide connections and professional development, Close says.
"We're hosting over 30 community conversations… and we're taking that information back and putting together a national report, on the key themes and trends across the country and best practices that we're learning from each of the communities," Close explains.
Then they will create "playbooks that will go back to each region that we meet with" she says, that will "outline what is specifically happening there to set up an action plan and work with our community partners."
The group is currently linked to 60 community groups after visiting 20 locations on their cross-country trek.
STEAM instead of STEM
Close says it has been an eye-opening experience in simply encountering the barriers to accessing the internet. "We'll go to either a Tim Horton's or something to be able to upload our wi-fi".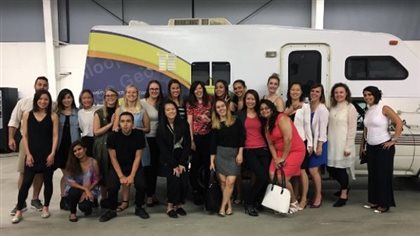 When asked about the situation in Canada and what they're hearing about when it comes to the rampant and rough sexism that many women face in the tech industries in the United States, Close says they are hearing about "sublte sexism".
An example of this they've heard about frequently is the challenge to getting financing without a man's participation, or a male presence in the company.
Alicia Close says they'll have a deeper understanding when they complete the tour and begin analysing the information, but she says they have been hearing suggestions about changing the narrative and the language around tech work.
She says speaking of STEAM instead of STEM; so adding to the "science, technology, engineering and math acronym, the word 'arts' to entice girls into the field.
Close cites her own experience, that at only 27, had she known what computer science was, she would have delved into it at a much younger age, and earlier in her education.
She explained that with her strengths and talent in math she was directed toward business and engineering. Business won.
"I was working in the financial industry in the operations area and then have moved over into financial technology space which I love, and would have, as a young kid, definitely been interested in knowing about, and just being educated on what other roles are out there."
Alicia Close is quick to credit mentors and sponsorship in her life and this is another aspect the group is highlighting: "being able to have the mentorship there to stay in your career because there are difficult barriers, as we've been talking about, to overcome and to have the supportive network that you need to overcome those and also learn from other individuals about what is out there and if you did want to make a career change, how to do that." she says.
This is another strong suggestion that keeps being repeated. That girls must be introduced to coding and computer science concepts at the beginning of elementary school.
It has been an eyeopener for the group of over 100 volunteers now, just how "un-connected" much of rural Canada is.
With files from CBC