PHOTO:( Pastor Virviescas Gómez / CBC)
Environmental concerns led a judge to order Canadian-based Barrick Gold Corp. to suspend work at the Pascua-Lama mine Wednesday. Chilean indigenous groups had argued the project threatened their water supply and polluted glaciers.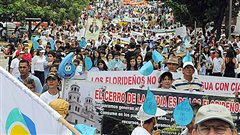 Several Canadian mining companies have faced protests in different party of the world. Last week, tens of thousands of Colombians took to the streets of Bucaramanga, to defend their water supply from a gold-mining project owned by Vancouver-based Eco Oro Minerals Corp.
On March 12, more than 10,000 Greeks protested in Thessaloniki against several gold mining projects owned by Vancouver-based Eldorado Gold.
Then on March 21, Catholic priests marched with 5,000 locals in Matagalpa, Nicaragua, against a project owned by Vancouver-based B2Gold Corp.
Canadian companies have also been targeted in Ecuador, Peru, Bolivia, Dominican Republic, Slovakia, Romania and Israel.
"Canada is very well represented in global mining conflicts because, in large part, Canada is the home of most of the junior mining companies of the world," says Ramsey Hart, the Canada program co-ordinator at Mining Watch, an Ottawa-based advocacy group.
The reason for this, he says, is that Canada has a favourable environment for high-risk, speculative investments, the kind that drives international mineral exploration. (ld, CBC)