Promising hope, and buoyed by positive public opinion polls, Justin Trudeau was elected leader of the opposition Liberal Party of Canada on Sunday (April 14).
He was elected in a week long vote that ended Sunday afternoon. Unlike previous elections, in which about 5000 delegates from electoral ridings voted at a national convention, the party opted to use an on-line vote to let 127,000 Liberal party supporters participate in the election of their leader. Trudeau won the election with 80% of the votes which were weighted to represent all of Canada's 308 ridings.
Son of former Prime Minister Pierre Elliott Trudeau, Trudeau's decision to run for the leadership of the Liberal party had already increased the popularity of the Liberals in public opinion polls. In 2011, the party lost its status of Official Opposition, this after years of being Canada's natural ruling party, because of the number of years it has been in power.
Trudeau's challenge is to convince Canadians he is a viable choice to the ruling Conservatives of Prime Minister Stephen Harper (who have been in office since 2006) and the left of centre NDP party which made Canadian history in 2011 by becoming the Official Opposition. In its weekend policy convention, it was clear the NDP hopes to convince Canadians it is the government in waiting.
In his acceptance speech, Trudeau called for unity and hope: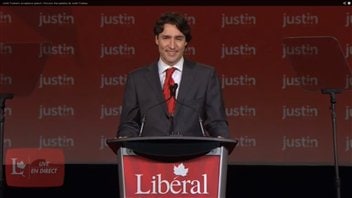 We are fed up with leaders who pit Canadians against Canadians. West against East, rich against poor, Quebec against the rest of the country, urban against rural. And any other division you can find in this country.
Canadians are looking to us, my friends. They are giving us a chance, hopeful that the party of Wilfrid Laurier can rediscover its sunny ways.
Hopeful that positive politics has a fighting chance against the steady barrage of negativity that you and I both know is coming soon to TV screens right across the country. Our volunteers actually tell us the phone messages have already started.
Both the Conservatives and the NDP are aware that despite the lack of an extensive political platform, Trudeau's youth, and appeal to Canadians to hope for a better future, has increased the Liberal party's popularity.
The ruling Conservatives lost no time in coming out with an attack video ad – with the title "Justin Trudeau — Judgement — He's in way over his head."
More information:
Liberal leadership election results – here
Video – Justin Trudeau acceptance speech – here
Conservative attack ad – here