The event called the Shell Eco-Marathon of the Americas, is to see who can create a vehicle with the greatest fuel efficiency.  It takes place annually in Houston, Texas, home of Shell Oil's US headquarters.
The winners in the prototype gasoline category this year was a  team from the University of Laval, in the province of Quebec.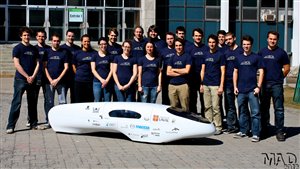 Their winning performance was 1,524.7 km/lL or 3,587 miles/ US gal., which easily surpassed the second place performance of a US team at 981.2 km/L or 2,308.3 miles/ US gal  
In fact, after wins in 2009, 2010, and 2011, it's now the fourth time they've won in the seven year history of the event. 
Not only did they win, but the performance set a new record in their category.  Mechanical problems forced their withdrawal in the 2012 competition.
This year, they beat other teams from Canada, and also from Brazil, the United States, Guatemala and Mexico. 
A University of British Columbia team came in 5th in the category, and a team from Dalhousie University in Nova Scotia came in 9th.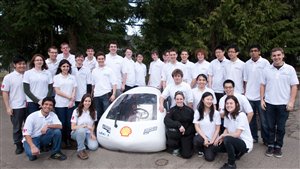 A total of 131 vehicles competed this year in the various categories