Listen
The Hungry Ghosts is a new novel by Shyam Selvadurai who himself emigrated from Sri Lanka to Canada when he was 19. His novel moves between both countries.
Being a person of colour and gay add to the protagonist, Shivan's difficulty in adapting to life in Canada. "I think one of the problems that you face if you're gay and you arrive in the west is you think that other gay people will be like you but they're not," says Selvadurai. "You realize that though you share a sexuality you don't share a culture and so you are alienated within the larger white gay community because you don't share their cultural norms, you don't often understand what they're talking about."
Things are changing though, he says. There are now many more non-white gay groups and the internet provides ways for gays who share a similar culture to connect.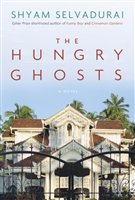 Sri Lanka's turmoil is richly evoked in Shivan's reflections. The tension between Tamils and Sinhalese comes alive in descriptions of situations Shivan navigates when he returns to visit his ailing and domineering grandmother. She is a hard-nosed businesswoman who uses goons to turf tenants who can't pay their rent and who sets goons upon Shivan's lover when she discovers the affair.
The grandmother loves Shivan and wants to give him everything, for him to take over her properties. "Her tragic flaw," says Sevaldurai, "is that she loves Shivan with the singularity with which the unloved love. That is her problem. People who are not loved in their life tend to love with a singular passion which strangles the people they love." Shivan is faced with the choice of becoming like her or rescuing her.
The Hungry Ghosts is Selvadurai's four book. The others have won or been short-listed for major prizes. Some having been published around the world. The author lives both Toronto and Sri Lanka.
Write to Reconcile is a creative writing project founded by Selvadurai. It seeks to bring together new Sri Lankan writers interested in the issues of conflict, peace and reconciliation.
Other books by Shyam Selvadurai:
Cinnamon Gardens, winner Books in Canada First Novel Award, winner Lambda Literary Award and national bestseller.
Funny Boy, shortlisted for the Trillium Award
Swimming in the Monsoon Sea, shortlisted for the Governor General's Literary Award.