The western city of Calgary has put off a decision to immediately ban sale of shark fins.  A task force recommended the city avoid an outright ban, and instead look for ethical sources for the product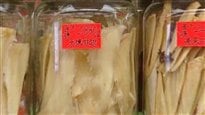 "Right now, the recommendation coming is there is going to be more time to engage, more time to discuss and as well as looking at different options and possibilities of a sustainable shark product," said Ald. John Mar.
A council committee has given the task force until December to come up with a plan to implement their recommendations.
The committee also modified the wording of their original bylaw which had already passed first reading. Instead of banning the possession and consumption of shark fins, the modified bylaw would ban the sale, trade and distribution of shark fins.
Eighteen municipalities in Canada have banned the sale of shark fins. A ban in Canada's biggest city, Toronto, was overturned in December by an Ontario Superior court ruling that said the city didn't have the authority to enforce such a ban. A federal politician's private member's bill to ban import of shark fins into Canada was defeated in March of this year.
Scientists are concerned that the huge demand for shark fins could render several species extinct in just a few years time. Although exact figures are difficult to determine it's estimated that each year, between 50 and 100 tonnes of fins are imported into Canada alone.
Chef Gordon Ramsey tries shark fin soup