Listen
As a large segment of the Canadian population become elderly a wide-ranging study is looking at seniors and road safety. It's hoped that learning more about seniors' driving will help them stay on the road longer right up until it is no longer safe for them to do so.
More than 900 seniors across the province are taking part in the study by the Candrive Research Network, a research program funded by the government.  Some of them are as old as 90.
Researchers want to develop a screening tool for professionals to use to evaluate driving. Researchers use GPS and cameras mounted inside a car to record information such as speed, braking patterns and driver reaction.
In offices, professionals look at vision, reaction time, cognition and other skills needed for driving. These skills may deteriorate along with declining health and ageing.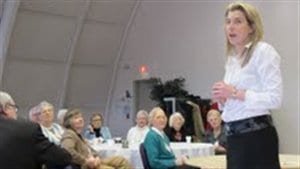 "We already have some evidence that the people who don't drive as often, not surprisingly, their medical status has become compromised and they're not as comfortable behind the wheel," said Brenda Vrkljan, associate professor in occupational therapy in the School of Rehabilitation Science at McMaster University in Hamilton, Ontario.
"We want to take a closer look at that because when people start to change their driving patterns perhaps that's an indication of some medical issues that are happening or is it about comfort and confidence and can we help improve that," said Vrkljan, noting that driving is important for quality of life. Seniors want to be able to drive to go shopping, to go to medical appointments and to visit grandchildren.
The goal of the research project is to keep roads safer for everyone, she said, adding that what is good for seniors will be good for everyone.