Wal-Mart has apologized for refusing a man who asked the store to print a photo of his wife nursing their baby. He wanted to frame the picture and give it to his wife, Kayla Andre for Mother's Day.
Controversies over breastfeeding pop up regularly in Canada. Part of the population is squeamish about nursing. Part of the population avidly promotes it. News stories usually centre around mothers not be allowed to nurse in stores or other public places. Often store owners apologize after getting negative publicity.
In this case, store staff initially refused to print the photo saying that would contravene store policy against printing nude pictures. When he learned of it, corporate affairs director Alex Roberton called Kayla Andre to say many of the staff were new and young and "In this particular case, we hadn't done a very good job of making sure that procedure was crystal clear."
He has since sent a note to stores across the country  to clarify that breastfeeding photographs are acceptable and do not contravene store policy.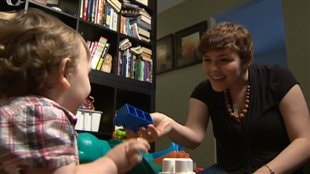 Kayla Andre now has her framed picture and is satisfied with the outcome.