Listen
Proposed changes to immigration rules will be damaging and extremely painful for families coming to Canada and should be scuppered, says the Canadian Council for Refugees.
Children are currently considered to be dependent on their families until they are 21. The government wants to change that to 18. That would cut 19, 20 and 21 year-old members out of families applying for permanent residence in Canada whether they be immigrants, refugees or in the family class of applicants.
"It really divides families and it is totally unnecessary and going to be creating huge hardships for the young people themselves and for their parents and siblings," said Janet Dench, executive director of the Canadian Council for Refugees.
"I don't think many Canadians would really think that at the age of 19 you should push your child out the door and leave them to fend for themselves," she said.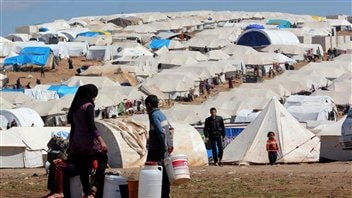 Dench noted it would be particularly difficult for refugees who have suffered persecution together, have fled and are looking for a place of safety. "Can you imagine how it would be as a parent to start a new life in Canada knowing you have a 19 year-old child who is in a refugee camp somewhere?"
Sponsorship will be more difficult
Sponsorship for parents and grandparents would also be subject to new rules. Sponsors will need to have a higher income over a longer period before they can sponsor these family members. And the period of sponsorship would be extended from the current 10 years to 20. That means they would need double the years before they could access social benefits like the assistance paid to people with low incomes.
"…(this) can cause enormous hardship for families. Iif you started out in a good situation but over 20 years there can be accidents, people can be laid off, people can become sick and so it can cause a tremendous hardship for a family," said Dench. This change in rules, she said, would mean only the wealthy could afford to sponsor their parents or grandparents.
"Immmigration not just about economics"
"We were very disappointed when we read the explanation…(for the changes)…that it was explained entirely on economic grounds," said Dench. She noted that in the case of the older children, they only earn a few hundred dollars less than the under 18 year olds. Both groups earn more than the Canadian average. "What kind of a rationale is that," Dench asked, "for saying that we're going to abandon 19 and 20-year-old kids."
"Immigration is not just to serve the economic needs of Canada," said Dench. "Immigration is also to reunite families. It's also about protecting refugees,"
Canada should withdraw these changes argues Dench and place a higher priority on keeping families together rather than driving them apart.