Elisha Cuthbert might be known to people around the world for her roles on TV shows like 24, or 'Happy Endings' and parts in movies such as 'Love Actually' or 'Old School'.  Now the Calgary-born, Montreal-raised actor might be best-known to the people of Prince Edward Island, as Mrs. Dion Phaneuf.
Dion Phaneuf is the captain of the storied NHL team, the Toronto Maple Leafs.  The Leafs, as they're known, haven't won the championship Stanley Cup in 46 years but they are much loved by loyal fans in Canada's largest city.
Phaneuf, 28, and Cuthbert, 30, have been together since 2008 when the defenceman was a member of the Calgary Flames hockey team.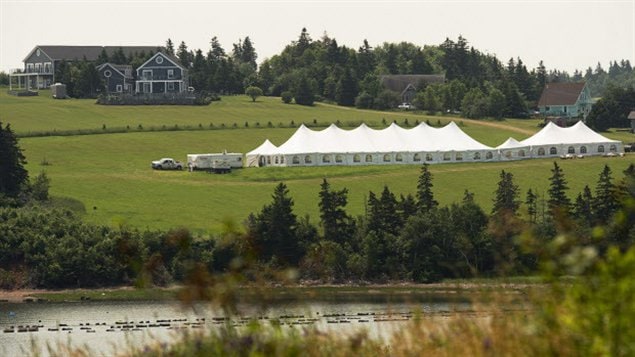 The two were married on Saturday in Dion Phaneuf's home of Prince Edward Island.  The ceremony took place at St. James Catholic Church in Summerfield, and the reception followed at the couple's summer residence near New London.
P.E.I. resident Julie Walker, who went to school with Phaneuf's parents was outside the church.  "Seems like a laid back, fancy affair. Quite impressed. Even a little bit of Island blood in you never leaves," she said.