5 people are dead and about 40 others are missing after derailed train cars carrying crude oil exploded in Lac-Mégantic, a municipality of 6,000, about 250 kilometres east of Montreal. The multiple blasts over a span of several hours sent people fleeing and devastated the town's downtown core.
"I saw a mushroom cloud, like an atomic bomb, explode in the air," an eyewitness said.
As many as 2,000 were forced out in the hours following the explosions. The area surrounding the derailed tanker cars has remained largely off limits to anyone other than fire crews as they search for victims, try to bring the flames under control and prevent further explosions.
Public health and environment officials say they're still assessing the impact of the massive oil leak and fire on the area inside and outside of the security perimeter. Quebec Environment Minister Yves-François Blanchet said an estimated 100,000 litres of oil spilled into the Chaudiere River.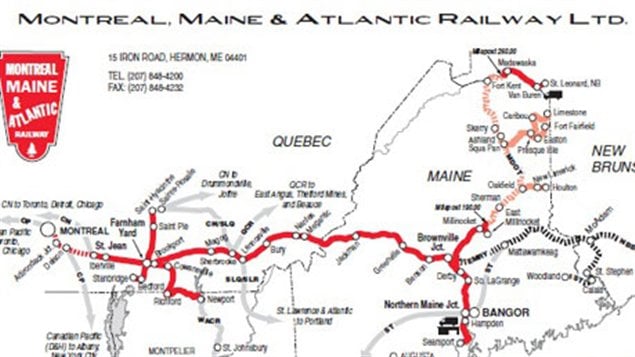 The president of the railway's parent company, Rail World Inc., had said the train was parked uphill of Lac-Mégantic, in the neighbouring community of Nantes, before it became loose and began careening into town. Witnesses said that they had seen sparks and a cloud of diesel smoke as it came to a stop a few hours before the derailment.
Prime Minister Stephen Harper, who visited the area on Sunday, said there would be 'a need for substantial reconstruction.'  he added that the federal Transportation Safety Board would be investigating the incident.
While locals deal with the tragedy, many are asking questions about whether trains carrying dangerous cargo should be travelling through populated areas. Canada's oil-by-rail industry has seen a 28,000-per-cent increase over the past five years.
With files from CBC.