It's a great, great week for Canadian tennis. Not only is Canada hosting the Rogers Cup tournament in Montreal and Toronto, a tournament one level below a Grand Slam, a Canadian has an outside chance to win the men's tournament. Make that two Canadians–Vasek Pospisil and Milos Raonic.
It won't be easy in a tournament that still has Novak Djokovic of Serbia and Rafael Nadal of Spain in the running. But  Pospisil and Raonic are through to the semi-finals, scoring victories on Friday. They play each other on Saturday.
Pospisil advanced first after Russia's Nikolay Davydenko, trailing 0-3, retired because of injury. Raonic followed suit, defeating Latvia's Ernests Gulbis in three sets.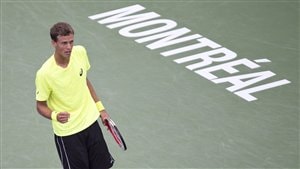 No Canadian has made the semi-finals since Mike Belkin in 1969. That was 11 years after three-time champ Bob Bedard won the tournament, the last Canadian to do so and 15 years after Bedard beat Henri Rochon in an all Quebec final.
Both Pospisil and Raonic reached the quarters with heady wins over top-ten players on Thursday. In a late afternoon match, Pospisil sent the Montreal crowd into delirium with a three-set, tie-breaker win over Tomas Berdych of the Czech Republic, the world's number-six.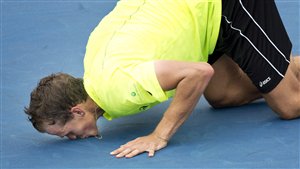 Following on Centre Court, Raonic defeated the world's number-seven player, Juan Martin Del Potro of Argentina in straight sets. The crowd–and Raonic–were more subdued than earlier, perhaps because of a breach of long-time etiquette that involved Raonic.
Here's what happened: Late in the second set, Raonic charged forward, smashing a hard top-spin approach shot to Berdych's open court. When Raonic's momentum carried him to the net, he attempted to do a something resembling The Frug to avoid contact–to no avail. Contact the net, Raonic did, with his right foot.
The touch was confirmed by video replay, which, unfortunately for Del Potro (and perhaps in another sense, Raonic) is not admissible evidence.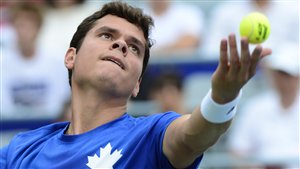 Because the chair umpire was following the ball he did not see Raonic contact the net. Tradition holds that it then became up to Raonic to call the infraction on himself. He chose not to and he was awarded the point.
Del Potro, clearly distraught and disheartened, failed to win another point as Raonic as the match wrapped up under a cloud.
Afterward, Raonic dismissed the suggestion that he should have called the infraction on himself, saying. "It was a lucky thing for me in my sense, unlucky for him, something that can go really both ways. It's sort of the exact same thing as having no challenges left and you get a bad line call. It's like a bad-luck thing. It was hard to sort of be able to take this point on such a big point."
Del Potro tweeted afterward that he remained furious about the turn of events.
The Montreal Gazette's Stephanie Myles joined us earlier this week for a preview of the tournament. RCI asked her to join us, again given what's taken place in the ensuring four days and especially on Thursday.
Terry Haig spoke with Stephanie Myles from her home in Montreal.
Listen