Listen
Possibly the biggest riot in Toronto's history occurred on August 16, 1933 between Christian and Jewish men after a baseball game. The melee was triggered when some young men climbed a knoll at the edge of the park and unfurled a white sheet with a large, black swastika on it.
Tense is how Cyril Levitt describes the atmosphere in Toronto at the time. The co-author of a book called The Riot at Christie Pits researched newspapers, archives and spoke with several people along with co-author William Shaffir.
It was a hot, steamy summer and people flocked to the beach in a part of Toronto that was homogeneously Protestant. Residents resented the large numbers of Jews and Italians they felt were "invading" their neighbourhood and they sometimes walked by wearing swastika and hurling insults.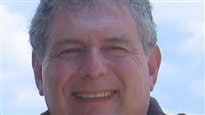 News from Germany fuelled tensions
A Toronto newspaper had sent a reporter to Germany and he was sending back frequent descriptions of the rise of Hitler and Nazism, so everyone in Toronto was very clear about what the swastika symbolized.
Tensions were steadily building and insults were traded at an early August baseball game. Police were warned there might be trouble at the next one but did not see fit to bolster their usual presence of about two or three constables on August 16th.
The park was situated between two neighbourhoods, the Protestant one and the mainly Jewish one nearby so once the trouble started both sides were able to call in supplies and friends and the numbers ballooned. Some newspapers reported 10,000 people were involved. Levitt thinks it really was only 2,000 and only about 200 actually fighting.
When the violence escalated and became protracted police finally sent in reinforcement and the riot ended six hours after it began.
"I think the city was shocked," said Levitt. "One of the things Canadian governors, mayors, administrators, legislators prized perhaps above all is captured in the phrase 'peace, order, and good government.' We had anything but order and good government that night and I think it shocked and frightened many people."
The mayor ordered swastikas off Toronto streets
The stern mayor of Toronto called on the police chief to account for what had happened and he later warned the population that any sign of the swastika would be met with the full force of the law. "I believe that was bluster," said Levitt. "I don't believe there was any law against that but I think at that time the mayor could exercise a moral suasion which mayors these days don't seem to be able to exercise."
Mayors may not have the same authority now, but Toronto has changed dramatically. It is a city with a great number of ethnic groups which live peaceably, notes Leavitt, and they are regularly celebrated with popular street festivals.