The town of Humber Arm South, in the Atlantic province of Newfoundland is celebrating "Come Home Year".  The town of just over 1600 souls, is located on the western side of Newfoundland not far from the city of Corner Brook.
Many events have been planned for the celebrations this month, but one has brought back some bittersweet memories for older folks.
This was a re-enactment of resettlement programmes in the province.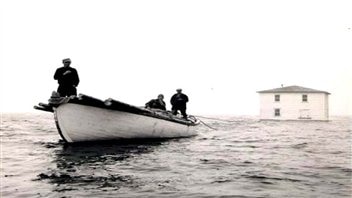 In the 1950's, 60's and 70's, there were efforts to close down the many remote "outport" communities, which the government considered non-viable,  and move people to bigger communities which had more services and which would provide people with "more opportunities".
The provincial government provided small amounts of money to encourage people to leave their tiny, remote settlements.
A not uncommon scene then in areas around the province was to see houses lifted from their foundations and moved across the sea to their new locations in the larger communities.
In the Humber Arm South event, a symbolic house was built for the occasion and towed out in the bay to commemorate the move of people from Woods Island to the town.
Marion Evoy, one of the organizers, said they're hoping to give people a glimpse into the community's history.
"[We wanted to] just get people to realize what it was like back in the '60s when they left Woods Island because, unless you are over 55, you probably can't remember it," Evoy said.  "It's nice for all the young ones today to see what it actually looked like."
The issue of resettlement was a major event in the province, and still a controversial one even decades later.  While resettlement did provide a new and better life for some, others who lived through it still harbor some resentment as many felt they were forced into the move against their will
Town of Dover- resettlement page
Land and Sea TV show- 2011-resettlement- The Pomeroys
Land and Sea- 2010- resettlement-Grand Bruit