Listen
By looking at brain imaging, Canadian researchers have found that a patient who has been unresponsive for 12 years is indeed conscious, knows who he is and where he is, and can answer questions. This revolutionizes the way we think about patients who are in a vegetative state.
The family of 38-year-old Scott Routley always believed he could understand them even though he could not respond to them in any way. His brain had been damaged in a car accident.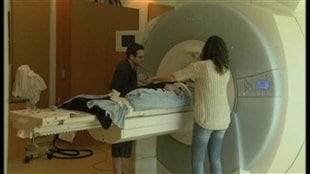 Brain images lit up for sound
Tests using magnetic brain imaging indicate they were right. Researchers at Western University in Ontario placed Routley in an MRI and presented him with periods of sound and then periods of silence. At the same time they looked at the activity in his brain to see whether there was a difference. They found that when there was sound the auditory portions of his brain lit up just as they do in healthy people.
Next, researchers asked the patient to pay attention to sounds for a while and then relax and not pay attention. They found increased brain activity during the periods when they asked for attentiveness.
Then they asked simple questions and offered first the word yes and later, the word no. The scan showed greater activity either for the yes or no depending on the question.
For example, when asked if he was in hospital, Routley's brain lit up with activity when he was shown the word yes. It did not when he was shown the word no. In this way Routley appears to have answered several questions which indicate he knows who he is and where he is.
Results "very, very striking"
"So the patient can then just convey, by paying attention to one of the two words, which one is the answer," said researcher Lorina Naci. "We did find that the patient, significantly and correctly, responded to several questions while he was in the MRI scanner, which was very, very striking."
This dramatically changes previous assumptions about the mental state of unresponsive patients. "We draw the conclusion that the patient certainly is not unconscious, which was the first amazing finding," said Naci.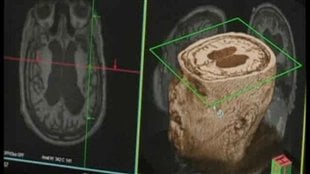 "And then moreover we were very, very excited to see that the patient is actually remembering who he is. He has autobiographical knowledge…And he also understands his whereabouts. He is aware of where is in space and time. That means that the patient is much more alert and cognitively preserved in his brain than we can ever understand from his behaviour."
More research will be done to find more sophisticated ways to communicate with patients like Routley. Not all unresponsive people are likely to respond in the same way. It's estimated one in five might be able to indicate yes or no with increased brain activity.
Patients could make decisions
Could people who are able to respond one day be able to make their own decisions about their care? That is the kind of question being studied by a team including philosophers, medical doctors and neuroscientists.
"We believe that by giving a patient some sense of autonomy and agency this would cause great improvement in their quality of life and the standard of care that the patient receives," said Naci.
The study was published Monday, August 12 in the Journal of the American Medical Association.