You may or may not have noticed that Sunday was "International go Topless" day.
Women is some 40 or more cities around the world, most in North America, marched or demonstrated with bared breasts to illustrate what they say is inquality.
About 100 people, mostly women but including some men, marched through a short section of downtown Vancouver on Canada's west coast on Sunday. While the women went topless, most of the men symbolically wore bras.
Being topless in B.C. is legal. We have the right to be topless and this is wonderful," GoTopless spokeswoman Denise Belisle said to a photo-snapping crowd that followed the marchers to Vancouver's Robson Square.
Women in Canada won the right to bare their breasts in public in 1996 when the Ontario Court of Appeal overturned the 1991 conviction of Gwen Jacobs, saying "there was nothing degrading or dehumanizing" about her decision to take off her shirt in public.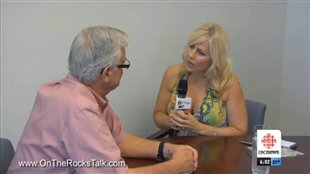 Although not illegal, event organizers say it's not fair that in many situations, such as at the beach, or even doing yardwork around the house,  it's socially acceptable for men to walk around without their shirts on, while it's taboo for women to do the same.
Earlier this week, a columnist with the Vancouver daily "The Province" and radio show host took off her top during a videotaped interview with Kelowna Mayor Walter Gray. Lori Welbourne was asking the mayor if it was legal for women in that B.C. city to go topless.
The mayor (who was in on the stunt) replied that it is no longer illegal for women to go topless,and that city bylaws on the issue were repealed.
He added that if a woman did go topless, some people might phone the police thinking it was illegal.
Reaction to the online video from Kelowna residents was mixed, with some saying it was inappropriate for the mayor to be in the stunt, while others saying that its' not uncommon in Europe and that Canada is behind the times.
Going topless is not entirely unusual for Vancouver where there has been a well-known secluded beach area, Wreck Beach, where toplessness and full nudity have been tolerated for many years.
CBC story on Gwen Jacobs legal battle
Topfree Equal Rights Assoc (Canada)