It's an idea that's been floating around for years; using lighter than air vehicles to carry goods to remote, difficult to access areas.
Now a group of First Nations chiefs in the western province of Manitoba, is pushing harder for the idea. The group of northern chiefs known as Manitoba Keewatinowi Okimakanak (MKO) will co-host an international conference in October called "Remote No More". It will be held in Winnipeg this coming October.
The conference is a collaboration with Dr. Barry Prentice of the Transport Institute at the University of Manitoba who is a longtime proponent of airships, and will include officials from Alaska, developers and government officials.
Many communities, reserves, and mining sites in northern Canada are reachable only by air and by winter ice roads over frozen lakes and bogs. Plane transport is exceedingly expensive and heavy goods and large loads can only be brought in by truck over the ice roads.
However with global warming/ climate change, ice roads are only lasting weeks instead of months
MKO  Grand Chief David Harper told reporters that one large airship could carry the cargo of several trucks with reduced costs, and environmental benefits, and the potential for year round deliveries, instead of only a short time in winter.
Dr Prentice said it costs Manitoba about $10-million per year to create and maintain about 2,200 km of ice roads. ""And at the end of the year, it all melts away, and it's gone. If we had 10 years of that money, we'd have a whole airship industry started.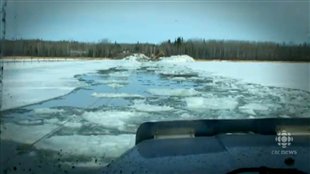 There are detractors however. Airships are more susceptible to strong winds and critics point out that winds are prevalent and often quite strong in northern Manitoba. There are also questions about how airships would react in temperatures which can dip to -35 C.  Some also point out the limited payload capacity of airships, saying they would have to be enormous in size to carry useful cargo loads. The huge German Hinderberg dirigible carrying capacity was roughly only about 16 tons in combined cargo passengers and crew. By comparison a 747 can carry a payload of over 100 tons. The average tractor-trailer can haul around 20 tons.
It should be noted that an American company Aeros, is currently developing an enormous airship of 137 metres which it claims will have a cargo capacity of 66 tons. Aeros had a test flight of its 70 metre long prototype earlier this month . Igor Pasternak, CEO of Aeros Corp., is expected to attend the conference
Chief Harper and Dr Prentice say an airship programme would give opportunities to aboriginals in such areas as piloting the craft and creating ground maintenance opportunities.  They hopw the Winnipeg conference will encourage the government to provide funding to the project.