Listen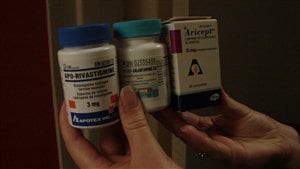 Drugs for Alzheimer's patients do not improve the mental abilities of people who have only mild cognitive impairment, and they do increase harm, according to a Canadian review of the research.  Patients on these cognitive enhancing drugs have more nausea, diarrhea, vomiting and headaches, researchers found. The drugs are donepezil, rivastigmine, galantamine and memantine. They are designed to improve concentration, memory, alertness and moods.
"There is a theory that perhaps that these medications might help delay the onset of of dementia," says Andrea Tricco, a scientist at St. Michael's Hospital in Toronto who led the study. In Canada, doctors must obtain special authorization to prescribe them for people with mild cognitive impairment, that is, people with memory lapses, problems with language or thinking but no significant limitations in their everyday activities.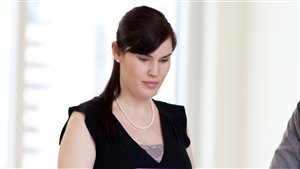 "A significant health problem"
Between three and 42 per cent of people are diagnosed with mild cognitive impairment every year. "We see between three and ten per cent of patients with mild cognitive impairment that progress on to dementia, which is a significant public health problem." says Tricco. Canada's population is ageing and it's estimated the number of people with dementia will double to more than one million by 2038.
"These types of conditions are more predominant in elderly individuals," says Tricco,  "so (as) we have more and more elderly people we need to focus more on these different diseases and disorders that affect elderly patients."
In looking at the safety and efficacy of cognitive enhancers, Tricco found there were no longer-term benefits of taking the cognitive enhancing drugs for those with mild cognitive impairment. The study was published in the Canadian Medical Association Journal.
Next, she wants to study the medications' effect on patients with Alzheimer's.