Listen
A picture of a now deceased Canadian girl at the centre of a bullying controversy turned up on an online dating site, raising an outcry over the use of personal photos on the internet.
The picture was of Rehtaeh Parsons, a teenager who died in April at age 17 after a suicide attempt. Her parents said she was sexually assaulted when she was 15, and then relentlessly bullied about it for more than a year. The case raised a storm of controversy across Canada.
"Find Love in Canada!" was the title of the ad for a company called ionechat.com and it featured the description "Meet Canadian girls and women for friendship, dating or relationships." A Toronto man spotted the ad and Rehtaeh Parson's photo while he was checking his Facebook account.
Parsons's father, Glen Canning, said the photos should never have been used. "For something like that to happen to Rehtaeh, given the circumstances of her death and  the grief we've gone through, it was pretty disturbing and disgusting to see something like that," he said in an interview.
"Canadians expected better of Facebook"
"I think…(Canadians) were saddened and disappointed," said Carmi Levy, an independent technology analyst and journalist. "…I think Canadians expected better of Facebook, they expected better of the companies that advertise with Facebook and this is something that no one in any country ever wants to see."
An administrator of ionechat.com, admitted that the images of Parsons had been gathered randomly from Google by a so-called image scraper. This refers to an automated computer script that downloads or grabs online images based on given parameters.
In a written statement, a Facebook apologized for the ads and called use of the picture "a gross violation of our ad policies." Facebook has since deleted the ad as well as ionechat.com's account.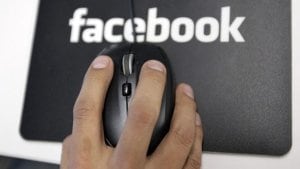 Facebook can use and share your pictures
Pictures uploaded to Facebook can be used in many ways, says Levy. "When you take a picture, you own that copyright," he says. "And so, technically, anyone who wants to use that photo has to ask you for permission. But…if you share a picture with Facebook, if you upload it to Facebook, Facebook reserves the right in its terms of use to take that picture and do whatever it wants with it including sharing it with advertisers who can put it into their advertising.
"So even though you still own the copyright it can still end up in places that you didn't expect and it can still be used by people you don't even know," says Levy.
Social networks usually deny responsibility for the content on their sites saying they are just the carrier or the conduit, says Levy. He calls that a "cop out" and says they should spend the money to do more to monitor what passes on their pages.
Enforcing copyright difficult
Enforcing copyright for any picture uploaded to the internet can be difficult. Laws are different in different countries and most of them were written before the internet was created and so, are outdated. Levy says governments need to pass new laws and change them as the technology changes.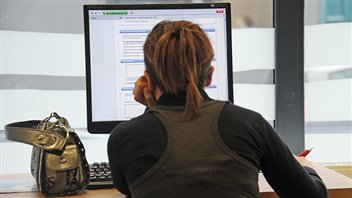 Protect your pics, advises analyst
Some protection can be applied by putting a watermark on photos. There is a way to apply a faint symbol to the photo identifying it as yours that makes it a bit less likely that an advertiser will use it. You can also put your name in the exif data that accompanies a photo so that you can search for it later. "There are things that we can do," says Levy, "but we also need to recognize that if someone is truly determined to use your content when they find it online, they'll find a way."
Other security precautions
Online security and tracking is becoming more of a concern in Canada. Canada's  privacy commissioner released a statement on Dec. 5 saying that web users should always be able to opt out of online tracking used by companies to provide them with targeted advertising.
15 tips to enhance online security:
Don't accept free cookies. Installing cookies on your computer is a way for sites to store information about your browsing history or preferences. While not all cookies are bad, setting your browser to warn you when a cookie has been installed is a way to maintain control.
Check all security settings. Look at the privacy, security and advanced preferences on your browser to see what information it is storing automatically.
Clear your cache. Always clean out your browser history, caches, cookies and active log-ins before leaving your computer for a longer period.
Use a firewall. A firewall is a must-have because it repels unauthorized transmissions from accessing your computer. Most anti-virus software nowadays comes with a built-in firewall.
Install a link scanner. This free software examines hyperlinks and search engine results before you click through to make sure they're safe.
Be smart about passwords. Use a combination of unusual words, numbers and symbols in your passwords. Do not use personal information like phone numbers, names of relatives or friends or birth dates.
Don't rely on a computer to remember your passwords. Do not check options such as "Yes, this a computer I use often" or "Remember the log-in/password information on this site" unless you want your information stored.
Don't use public computers. While going online at a cyber café or library seems like a good way to remain anonymous and thus foil e-predators, you might leave traces of your Facebook or Gmail passwords on the machine — making it easy for the next user to access your information on those sites.
Create a separate email account. Avoid compromising your main email account and polluting it with unwanted spam by creating a separate account purely for use in online transactions.
Use fake information where possible. When asked to supply a birth date, mother's maiden name, pet's name or other identifying information on social media websites such as Facebook, LinkedIn and Twitter, just fudge the facts.
If you have to use real information, keep it in lockdown. If you're a heavy Facebook or Twitter user, consider changing the settings to make your account or feed only visible to a select group of trusted friends.
Beware sneaky check boxes. Pay attention to the check boxes that appear while signing up for services or purchasing items online. Some require you to check the box to opt out if you don't want to receive promotional material or have your information used for marketing purposes; on other sites, checking the box means you've opted into whatever is being offered.
Read the Terms of Service. The terms of service agreements that many sites require you to agree to before proceeding further may be long and wordy, but you should still read them carefully to know what you're agreeing to and what parts of your privacy you may be giving up.
Say no to autofill. Turn off the "autofill" function on your browser that recognizes familiar words and numbers you've used on forms before and automatically fills in all your personal information.
Don't divulge your email if you don't have to. Asking you to supply an email address when paying for purchases at bricks-and-mortar stores, for example, is typically just a way for the store to send you promotional material.