Listen
Calling for dialogue with the west, Iran's new president Hassan Rouhani is set to address the United Nations as part of what pundits are calling a "charm offensive." Iran's foreign ministry says a planned meeting to discuss restarting nuclear talks signals the beginning of a "new era" in relations with the West.
But Canada "will judge the government of Iran on their actions, not on a public relations exercise," said Foreign Affairs Minister John Baird last week. Canada has had frosty relations with Iran since Iranian-Canadian photojournalist Zahra Kazemi was imprisoned, tortured, and died in a Tehran prison in 2003. Canada severed diplomatic ties with Iran last year calling it a state sponsor of terrorism.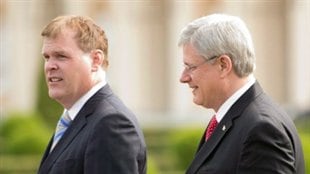 Canadian hard line on Iran
"With the (Conservative Party Leader Stephen) Harper government taking power (in 2006), they've taken a more ideological line on relations with Iran," says James Devine, an assistant professor specializing in Iranian politics and foreign policy at Mount Allison University in the province of New Brunswick. "They've taken a very hard core position, even perhaps more hard core than the Americans and what this has done is that it's deteriorated the relationship even further."
Iran not just posturing, says professor
"Rouhani and the people around him have been pushing for a better relationship with the West since the 1990s, long before sanctions were having an effect," says Devine. "So this is new thinking. It's not simply just a stalling tactic or manoeuvering."
The West is looking for assurances that Iran will not use its nuclear program to develop weapons. The US wants increased inspections and some limits on levels of nuclear enrichment in Iran's program. It wants Iran to help pressure the Syrian regime to be more flexible and it wants some progress on human rights.
Canadian released from Iranian prison
Perhaps to show good faith on the human rights front Iran has released prisoners recently including Canadian Hamid Ghassemi-Shall who had been on death row. This week Rouhani will need to show he is able to deliver on the deals he makes. He, so far, appears to have the backing of the highest religious cleric in Iran, Ayatollah Ali Khamenei.
Rouhani needs UN success
Success at the UN is important for Rouhani, says Devine. "If he comes back from the UN and he doesn't have any tangible signs of success it's going to be a large political failure. He's really invested a lot in this charm offensive and this meeting.
"If he does have some success…some sign of a potential of sanctions being eased, this will help him a great deal domestically. It will help maintain the political momentum since his election."