It was long thought that these "glass-sponges" had died out in the Jurassic era, 40 million years ago.  Then by accident, they were discovered surviving in deep waters just off Canada's British Columbia coast.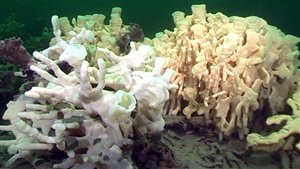 They have since been discovered elsewhere including in Antarctica, but only in Howe Sound, the Sraight of Georgia and other areas have they created actual sponge reefs growing on top of dead predecessors.
In fact they are only a few kilometers off shore from the major urban centre and port city, Vancouver.
They are found about 70 metres down, in waters too deep for normal scuba diving and are being explored by special submarines.
They're called glass sponges as the animal (not a plant) is actually part plant as their skeletal structure is based on silica they absorb from the ocean.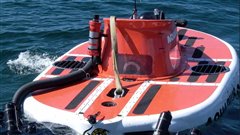 Scientists say they are important as a refuge and nursery for certain endangered fish such as small rockfish, which can live for 100 years, and lingcod.
They also act as filters of bacteria in ocean water, with just one sponge capable of filtering 9,000 litres of water per day.
The Canadian Parks and Wilderness Society (CPAWS) is now working to get the fragile sponge areas closed to certain types of fishing such as prawn traps and trawling.
The hope to eventually have the areas declared marine sanctuaries