"We are not a society of blind faith – we are a society of accountability, transparency and free and open debate," said Caily DiPuma, Counsel for the British Columbia Civil Liberties Association (BCCLA) as the association announced it was suing Canada's eavesdropping agency the Communications Security Establishment Canada (CSEC) saying its broad and unchecked surveillance of Canadians is unconstitutional.
The action was announced at a press conference Tuesday (October 22) in the city of Vancouver in Canada's Pacific coast province of British Columbia.
The lawsuit argues that two aspects of CSEC's operations violate Canada's Charter of Rights and Freedoms' protections against unreasonable search and seizure and infringe on free expression:
The interception of the private communications of Canadians;
The sweeping collection of metadata information produced by Canadians in their everyday activities online and through phone conversations.
Joseph Arvay, Q.C., another lawyer for the BCCLA said: "Such untrammelled spying will cause Canadians to censor themselves on matters that are perfectly legal, but involve personal, business, political, or the intimate details of one's life, for fear that such details will be intercepted by the spy. This is what lawyers call the 'chilling effect' on expression."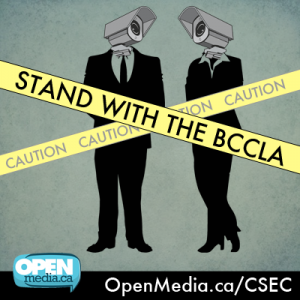 As the lawsuit was announced OpenMedia.ca launched a national campaign calling on Canadians to support the BCCLA lawsuit. OpenMedia.ca is Canada's largest civic engagement organization that works to ensure the Internet is open, affordable, and surveillance-free.
More information:
BCCL press release – SPYING IN CANADA: Civil Liberties Watchdog Sues Surveillance Agency Over Illegal Spying On Canadians – here
OpenMedia.ca – National campaign launched as civil libertarians announce court challenge to stop government spying on Canadians – here