Listen
Canadian researchers have found that bees can be used to deliver pest control agents to plants as they pollinate them.  Bees leaving their hives walk through a tray of organic pest controls that stick to their legs and hair. When they pollinate the plants they leave behind the fungus, bacterium or virus that then infect and kill the pests.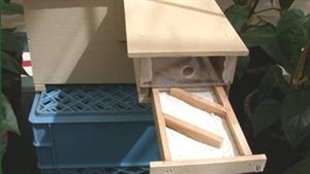 Bees deliver natural pest control agents
"We're using the bees to reduce the amount of chemicals that are put in," says Les Shipp, a senior research scientist with the Canadian government who has been working on the technique. "So we're not applying chemicals. We're applying beneficial microbial agents."
Ship uses agents that are native to the areas, so there is no danger of an invasive species getting out of control. He does not use wild bees, but bumblebees which are bred specifically for pollination.
Value-added bees
"What we just added was a little extra value to the bees," Shipp says. "So they can do the pollination and the delivery of this pest control agent at the same time."
Some diseases were reduced by 80 per cent in some of Shipp experiments with pest and fungus diseases. Bee vectoring, as the technique is called, was approved for treating the fungus Beauvaria Bassiana by the Canadian government earlier this year. Ship believes it is the first time in the world this technique has been officially approved.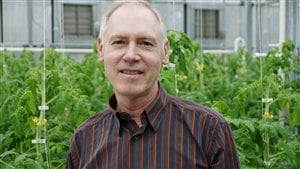 Advantages of using bees
"They're out there working seven days a week. You're getting continuous introduction of control agents," Shipp said. "If you sprayed, you're only spraying at one point in time, but the bees are there constantly delivering this.
"I wouldn't look at it as a silver bullet. It's another tool to control pests and diseases. We hope it drastically reduces sprays."
Company develops commercial applications
The technology is being developed for commercial use by a company called Bee Vectoring Technology. It would be used on both indoor and outdoor crops like strawberries, sunflowers, blueberries, canola, peppers and tomatoes.
Other countries have expressed interest in bee vectoring. Shipp has had inquiries from and collaboration with people from Korea, China, South America, Mexico and Europe.