November 11th is the day when Canadians pause and reflect on the sacrifices of its men and women who gave their lives in wars and peacekeeping to defend the ideas of freedom against oppressors.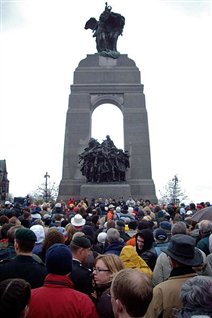 For federal government workers it is a day off work to enable them to attend memorial services at cenotaphs across the country.
The main service is at the National War Memorial in Ottawa where the tomb of the Unknown Soldier is also located. These services are televised live across the country.
Royal Canadian Legion is a non-profit service organization consisting of past and present members of Canada's Armed Forces, and is always an integral part of all services across the country.
It is concerned primarily with veteran's issues and  is responsible for Canada's remembrance poppy campaign which distributes plastic lapel poppies to be worn in the lead up to Remembrance Day.
Bill Maxwell is Senior Programme Officer at the Royal Canadian Legion, Dominion Command, Ottawa.Listen
In wars and peacekeeping Canadian young men and women have volunteered for military service to defend the cause of freedoms from aggressors.  Many never returned from these overseas campaigns.
Across the country, many smaller centres hold their Remembrance services on the day or weekend prior to November 11, in order for them to watch , or if close enough to the nation's capital, participate, in the national ceremonies in Ottawa.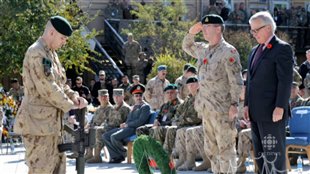 The day is selected as Remembrance Day as the Armistice to end the First World War..the war to end all wars- or so it was hoped at the time- was signed and came into effect at the 11th hour of the 11th day of the 11th month
Services begin just prior to 11am,.and at 11 am,  a bugler or trumpet calls Last Post. which is then followed by a minute of silence, after which the bugler (or trumpet) calls "Rouse"
A reading of some lines from the 1914 poem written by Laurence Binyan called "Ode to Remembrance" are recited…specifically the stanza-
They shall grow not old, as we that are left grow old:
Age shall not weary them, nor the years condemn.
At the going down of the sun and in the morning,
We will remember them.