Every year polar bears gather near Churchill Manitoba as they wait for freeze up of Hudson Bay in order to venture out onto the ice to hunt for seals.
Because of the large number of bears that gather there, it's become world renowned for tourists and for biologists to watch and study the bears.
But in fact the bears gather all along the extremely sparsely inhabited western shore of the Bay. However in the small village of Arviat in the Kivalliq region of Nunavut Territory, almost 300 km north of Churchill, the bears do pose a serious concern.
While Conservation Officers do patrols during the day, citizens take over at night.
Leo Ikakhik, who is on night patrol, says on average last year between mid-October and early December he spotted seven or eight bears every day. Ikakhik says this year there appears to be more.
"Sometimes they migrate closer to town. I think they are even earlier than last year and it seems they are all over the place too."
The community is trying different ways of keeping the bears at bay, such as putting up electric fences. But Ikakhik says the bears seem to find ways to get around those, too.
"The same bear, if he really wants something past the electric fence, they're going to keep trying and they learn how to stop the voltage," he said. "They can just put their front paw and press one cable and make contact with another one and kill the whole system, and they can just go right it."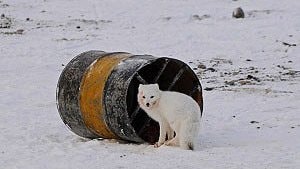 This year they are also trying something new to attract the hungry bears away from the village.
They have set up "diversionary feeding stations" away from town. They consist of barrels of seal meat, and meat wrapped in steel mesh fencing.  The bears can detect the meat from long distances and head toward the stations instead of the village.  At the stations, the bears have to spend a lot of time to get at the meat.
"We heard this project was being used in places such as Alaska, where they might have similar bear problems such as we do here," said Wildlife officer Jonathan Pameolik. "We've heard that they had success in those areas so we thought that we'd try it here, too."
In the worst case scenario, if a bear comes into the village and cannot be scared off but continues to pose a threat, there is permission to shoot the animal in what are called "defence kills".
So far this year there have been no defence kills.
Explore.ca -live tundra cams for bear sightings
(with files from CBC)