Most of us open and close doors every day reflexively, but for many, like arthritic seniors, it may be challenging and even painful to do.  Hardware is the problem.  More specifically, doorknobs.  Pinching and twisting them requires a tight grip.  Doors with lever handles, however, unlatch easily, with even just a push of the elbow.  They are so user-friendly that agile cats have been known to get past them.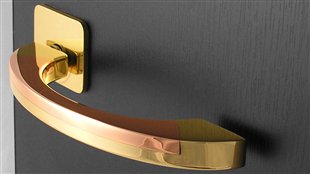 In the trend-setting west coast city of Vancouver – which has strived for years to become one of the most accessible cities in the world – councillors wanted to make sure that doors open for people with disabilities, not only in public buildings, but in private homes as well.  After consulting with the industry, Vancouver city council amended its building code.  As of March 2014, doors and faucets in all new housing will have to be fitted with levers, rather than knobs.
According to the Vancouver Sun newspaper, the move follows the principle of "universal design".  The term, coined by Ron Mace, an internationally-renowned American architect, refers to "the design of products and environments to be usable by all people, to the greatest extent possible, without the need for adaptation or specialized design."
Vancouver is the only city in Canada with its own building code and it has been speculated that the municipality's decision will spur a ripple effect, with new requirements possibly being integrated into Canada's National Building Code and provincial building codes down the line.
Not everyone is a fan of the doorknob ban.  Lever handles are more expensive and more difficult to childproof, but Canada's demographics support a more inclusive design approach.  One in seven Canadians is currently 65 years of age or older and by 2036, the proportion will increase to an estimated one in four.  In 2006, 14.3% of the population, or 4.4 million people – the vast majority of them seniors – reported having a disability.  First type of disability listed?  Pain, followed by mobility and agility.