It is arguably the single biggest sporting event in Canada. The annual Grey Cup football championship vies for top spot with the Stanley Cup final in hockey.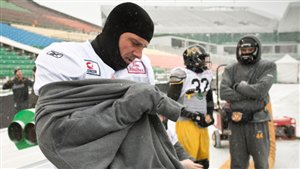 Football fans have been pouring in to the western city of Regina Saskatchewan for the Sunday championship matching the Saskatchewan Roughriders with the Hamilton Tiger-Cats.
The Grey Cup final is held in different cities each year, and hosting the event and also having your home team in the final is a special treat.
The weather has been bitterly cold leading up to this 101st Grey Cup.
Earlier this week, some Hamilton players suffered minor frostbite while practicing for the game, with the wind chill making the temperature the equivalent of -21C on Wednesday, and -31c Thursday morning.
Temperatures are expected to warm for Sunday's game which gets underway at 17;30 local time.
The forecast is for temperatures hovering around zero to -3. Winds in the open Mosaic Stadium however could make it feel like -10.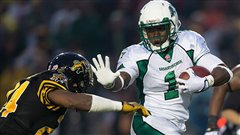 Extra seating has been added to the stadium to bring capacity to about 50,000. Tickets were sold out early.
The two teams in the finals both come from the smaller markets in the league, and are fairly evenly matched in terms of their statistics.
And speaking of statistics, history records Regina as the first major club in Canada to use the forward pass.
The Canadian Rugby Football Union (controllers of the Grey Cup) had banned the play in 1930. It came back in 1931. The  CRFU later evolved as did the game itself, into the Canadian Football League or CFL of today. A different body, Rugby Canada, now controls "English" style  rugby.