A fungus believed to have originated in Europe, is wiping out bat populations in eastern Canada.
Reports say various colonies have seen losses of 90 percent and greater. Biologist Graham Forbes, PhD, is among those making a recommendation to the federal government to list bats as endangered species.
Professor Forbes is the Director, New Brunswick Cooperative Fish and Wildlife Research Centre. Faculty of Forestry and Environmental Management, and Faculty of Science. University of New Brunswick, in Fredericton.  He is also co-chair of the terrestrial mammal sub-committee of Cosewic (Committee on the Status of Endangered Wildlife in Canada) Listen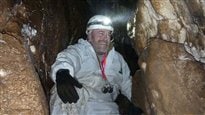 There are some seven species of bats, but three main species in eastern Canada, little brown bats, northern long-eared bats and tri-coloured bats.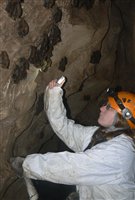 The white nose fungus is so called because it grows into the exposed areas of skin on the bats such as wings, and around the muzzle given the animals a whitish face.
It's suspected that it causes discomfort and so wakes the bats up from their winter hibernation. Because they are awakened several times, their metabolism speeds up and they consume precious fat and energy needed to survive the long winter.
They may also fly out into the winter in search of insects to eat and water.  In either case they are dying of exhaustion, exposure, of hunger and thirst, or a combination of all these factors.
Professor Forbes says that because bats were always so plentiful, studies of them are relatively limited in the scientific literature. He points out that the arrival of white nose was as sudden as was its rapid spread among bat colonies and over vast distances.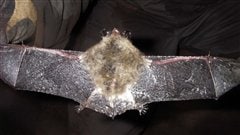 Bat colonies have been hard hit from the maritime provinces of Nova Scotia and New Brunswick through to southern Quebec and southern and  central Ontario.
He says COSEWIC has been providing information to the government to accompany its recommendation to get the bats listed as endangered species.
If this comes about, it would provide additional funding for studies and recovery efforts and enable protective measures to be instituted.
This is important because while other species such as mice can reproduce rapidly, this is not the case for bats. Mice for example have several babies at a time, and can reproduce several times a year.
The babies mature rapidly and reach sexual maturity within a month or more. Professor Forbes notes this is not at all the case for bats.  They have one pup per year, and that pup, if it survives will reach maturity only after a year and in some cases two years. He says with such a catastrophic means any recovery of the bat population in eastern Canada and northeastern USA, may take decades.
They occupy an important place in the ecosystem as insect eaters, such as mosquitoes and moths, consuming for example anywhere from 1,000 to 6,000 mosquitoes a night. This is especially important as mosquitoes can be carriers of the harmful and sometimes deadly West Nile virus, while certain moths and other flying pests can be harmful to crops and the timber industry.
Professor Forbes says the massive loss of bats will upset the balance in the ecosystem and because of the sudden die off of bats, we haven't yet seen the consequences.