Countries associated with human rights violations and violent internal conflict have been buying Canadian-made guns and ammunition in apparent contradiction of Canadian foreign guideline, according to an analysis by the Canadian Press. The wire service reports that Canadian arms exports to Bahrain, Algeria and Iraq grew by 100 per cent from 2011 to 2012.
Canada's Department of Foreign Affairs says it checks all weapons exports to be sure they do not contribute to national or regional conflicts or that they are not used to commit human rights violations. But the increase in sales worries analysts, human rights groups and arms control advocates.
Listen
"Raises a red flag"
"It raises the red flag," says Walter Dorn, professor of defence studies at the Canadian Forces College, a military school for officers. "We want to make sure that products from Canada are not used in anti-democratic or repressive ways."
Companies may be seeking new markets for their products as western countries decrease their military spending. That may account for an increase in exports to countries with dubious human rights records, says Dorn. But he is also concerned that the current Canadian government's emphasis on promoting business may also be a factor.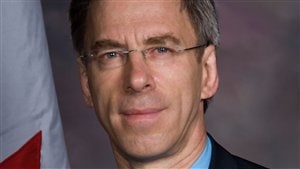 Canada putting "business before conscience"
"I think there is a general tendency in (the Department of) Foreign Affairs to put business before conscience, to put the pursuit of profit before the idea that we have to make a positive contribution to the world," says Dorn. "…International trade has become much higher in the profile in foreign affairs. That means things like arms trade are further promoted through our Department of Foreign Affairs."
In fact, the government recently changed the name to the Department of Foreign Affairs, Trade and Development and stated publicly that diplomats should focus on furthering trade as their first priority.
Canada should sign arms treaty, says UN official
The United Nations' high representative for disarmament, Angela Kane is calling for Canada to sign the U-N Arms Trade Treaty in response to this analysis by Canadian Press. Kane said Canada should stop foot dragging and sign the treaty to help regulate the situation. Dorn says many countries were surprised when Canada did not immediately sign the treaty.
"Our record until recently was very good. We were a key proponent of an arms trade treaty, we were active in arms control including the Ottawa Convention to ban anti-personnel mines," says Dorn. "But in the recent negotiations we startled a number of countries when we decided we wanted to put a sporting exemption in the arms trade treaty."
Canada's exemption would have created a "loophole"
The exemption was to protect domestic hunters and sportsmen but Dorn says the arms treaty would not have affected them, but it would have put a loophole in the treaty which would have made it easy to circumvent.
"Canada not living up to its reputation"
"There is a pattern there that Canada is not living up to its usual reputation of being very quick to ratify arms control treaties and very strong to support them," says Dorn.
"I'd hope that we'd find Canada returning to a position where it was a solid contributor to the international order, to arms control, to the non-proliferation of weapons…and in the end it would benefit our trade when we have a very solid reputation in not contributing to weapons of death and destruction.