A Canadian university doctoral student has helped unearth fossilized bones of human ancestors from deep within a cave in South Africa.
A physical anthropologist, Marina Elliott's studies include subjects ranging from paleontology to forensics. She studies in the Department of Archeology (Faculty of Environment) at Simon Fraser University near the major port city of Vancouver on Canada's west coast.
However, it was additional extra-curricular hobby of exploring caves around Alberta, and her size, that enabled her to be chosen for this unique exploration.
Listen
National Geographic Explorer-in-Residence Lee Berger, a research professor in human evolution in the Evolutionary Studies Institute at the University of Witwatersrand (Wits) in Johannesburg suspected that a region known as the "Cradle of Humankind" north of Johannesburg had not been completely exhausted of hominid fossils.
Hominids lived in Africa millions of years ago and were the predecessor of humans.  The so-called "Cradle" is a World Heritage Site where many hominid fossils had previously been discovered.
Professor Berger encouraged local cave explorers to keep an eye out for fossils or areas that may hold promise as they explored.  They later reported back to him that they had indeed found an interesting cave that should be explored

However to get further into the cave, the scientists would have to squeeze through a very narrow opening of only 18 cm.
For Berger, this meant that the explorers would have to be scientists, but also familiar with caves (and unafraid), and be slim enough to get through the narrow opening and then down some 30 metres to the next level.
Six female researchers were chosen for the team called the "Rising Star" expedition, funded by Wits University and National Geographic.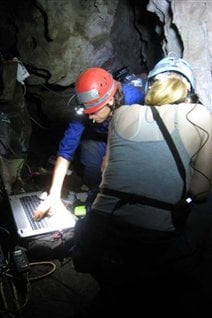 Elliott and the other researchers eventually discovered over 1,000 ancient bones believed to be those of hominids
Their discoveries include a small portion of a skull which was removed from the cave with extreme care.
The bones are currently being analyzed at Wits University to determine things like sex, species, and age.
Marina Elliott's own expertise will play a role as her doctoral thesis involves using whole-body, three-dimensional CT data to evaluate how paleoanthropologists and biological anthropologists estimate body mass from skeletal remains.
National Geographic rising star expedition