Although Canadians' medical bills are usually paid by the public health system, a young woman has been billed $13,159 because she was treated outside of her home province for a service that wasn't covered.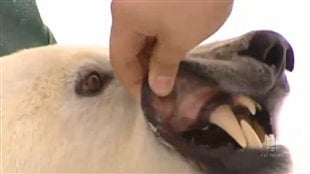 If the bear doesn't kill you, the bill could
Erin Greene, 30, was attacked by a polar bear in Churchill in the western province of Manitoba, a town well-known for its abundance of the bears. She wrapped her arms around her head to try to protect herself. The bear slashed her severing three arteries and tearing her scalp and a piece of her left ear.
Greene was airlifted to hospital in Winnipeg over a thousand kilometers away where she was stapled, stitched and given blood transfusions. She has recovered and is back in Montreal in her home province of Quebec.
In Canada, each province or territory administers its own health insurance plan, although standards are set by the federal government. When a Canadian gets medical care in a province other than their own, their own province usually covers the costs.
Ambulances were not covered
All of Greene's expenses for her hospital stay were indeed covered, but her air and ground ambulance transportation were not. Friends held a fund raising event and raised about $2,000 to help cover the expenses. They have also started an online fundraising campaign.
Despite the attack and the bills, Greene said she can't wait to return to Churchill someday. However she would be wise to get travel insurance—something Canadians are used to buying when they go outside the country. Few would realize they need it when travelling within Canada.