Screaming and swearing at their own children, at other's children, at the referees, at the coaches, throwing things on the ice, fighting with other parents in the stands, none of this is unusual in minor hockey leagues in Canada.
It's become so prevalent that hockey leagues have begun to order parents to take courses in respect before their children can be enrolled in hockey leagues.
In the western province of Alberta, Hockey Calgary was the first organization to make a course in respectful behaviour by parents and coaches mandatory. The programme has since been adopted by several provinces and minor hockey organizations.
Called Respect in Sport, the online course has been completed by some 100,000 people since it began.
A study released this week says however, that while it has had some effect in reducing bad behaviour , it's not had the degree of effect hoped for.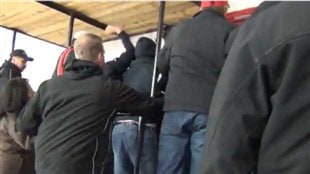 Kevin Kobelka, executive director of Hockey Calgary notes there' are 20-25 cases a year where incidents are serious enough that parents face disciplinary hearings.
He says however that parents see the RIS programme as a positive step and are asking for more.
The study was conducted by Julie Booke, associate professor in the department of physical education and recreation at Mount Royal University. She surveyed some 1,000 participants and found most of them supported the course and suggested it be taken more than just the one time.  She also admits that an online course could not be expected to accomplish a lot in altering behaviour of the worst offenders
Hockey Calgary hopes however that training will help other parents to step in when emotions flare off ice.
Phillip McKee, the executive director of the Ontario Hockey Federation, said his organization is considering making the RIS course mandatory for all Ontario hockey parents. Currently only about 10,000 parents have been required to take the course.
Mckee said to reporters that "Respect is a culture issue and everyone has a role in it. " While he's much in favour of the RIS programme he notes that people have to indicate to others that certain behaviours are not welcomed.
"If I stand by and allow disrespect to occur, then I'm an enabler I'm no different than the person having conduct issues", he says.