Listen
The majority of domestic homicides can be prevented say researchers at two Canadian universities, and they have launched a website to share information on how to do just that. The new Canadian Domestic Homicide Prevention Initiative website features the latest research, educational materials, training and other resources.
"Information is critical," says Peter Jaffe, Director of the Centre for Research and Education on Violence Against Women and Children and a professor of education at Western University in the province of Ontario. His team has worked with researchers at the University of Guelph, Ontario, to create the website designed for researchers, community organizers front-line workers and government policy makers.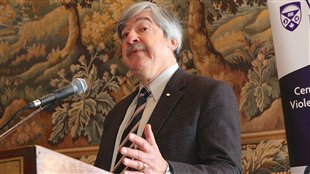 100 domestic murders annually
Every year about 100 people in Canada are killed by their intimate partners. In such cases, women are three times more likely to be murdered than are men. Sometimes children are killed as well. Jaffe says domestic homicide is a problem right across Canada and in many countries.
Five Canadian provinces have established Domestic Violence Death Review Committees. The committee in Ontario studied 164 domestic homicides committed over the last 10 years. "What we've seen is that for the vast majority of cases there is a clear pattern of warning signs—things that are known to friends, family, co-workers, front-line professionals," says Jaffe.
Warning signs
The perpetrators often have a past history of violence, they may be depressed or hopeless, sometimes threatening to harm their partner or themselves, they may stalk their partner, they often have access to weapons, and usually a separation is recent or pending. "A lot has been happening to raise awareness about this issue and how we can prevent these tragedies," says Jaffe.
Risk assessment tools are available on the website, as is information about problems which may be unique to certain areas like the far north or isolated rural communities where people have less access to resources. Research is shared on more vulnerable populations such as aboriginal and immigrant women. These are just a few examples of a wealth of information that is available on the website.
An international problem
The site can be accessed by the public, but Jaffe says anyone who is concerned about their own safety should not delay calling police. He says the website will be useful for people in Canada and around the world. He has already had inquiries from across Europe and Australia.
"The information that is being developed is really one that could be readily shared," says Jaffe. "I know from international conferences that I attend that every country across the world sees this issue as a major concern and there's a lot more going on to share information internationally."