The analysis of a group of people playing the popular strategy video game Starcraft 2 revealed that age-related brain performance starts declining at 24 years.
Researchers at Simon Fraser University studied 3,305 people, mostly men, aged 16 to 44, as they played one game against a single random opponent of similar skill. They measured gamers' cognitive motor performance, i.e. how quickly your brain reacts to things happening around you.
"The speed of the players does seem to be affected by age," says Joe Thompson, PhD student and one of the authors of the study.
The possibility of examining real-world performance, as opposed to laboratory performance, was major advantage of the study.
"Following people when they go home is complicated to study … It's expensive to put sensors on people and track their behavior outside the lab … and what we do when we go home is often really complicated stuff," Thompson says.
In Starcraft 2, players can't see the whole "world" at once. As they mine resources needed to build up their armies, attack their opponents and defend themselves, they need to quickly move their screen around from one part of the world to another.
"The measure of speed is an extremely important measure of how good you are at Starcraft 2," says Thompson who also plays the game.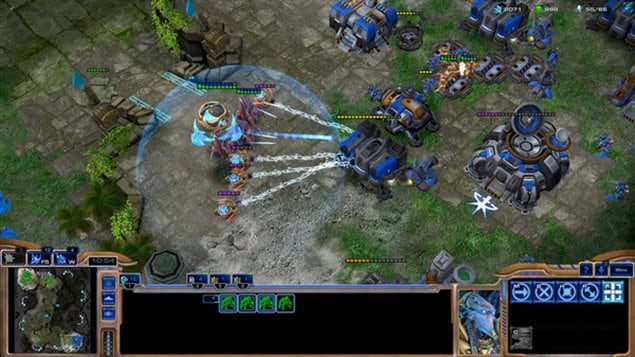 Rich digital data
The videogame allows researchers to get data on both professional elite players and novices. Game performance is also much easier to analyze than real-life situations, because the game generates detailed logs of every move.
In spite of the rather startling news that our brains start to age so early, Thompson doesn't see the results as a "doom and gloom story". Older players, although slower than younger ones, are still performing at high levels, despite differences in speed.
"One way they seem to be able to do that is by making better use of the game's interface. If that's true for Starcraft 2, we start to wonder if that might be true for other domains, as well," says Thompson.
The study is also exciting because of the method used to measure brain reactions. Our digital lives leave behind a "gold mine" for cognitive science, says Thompson.
In the future, Thompson would like to include more women and people from different origins in his studies.
In their next study researchers at Fraser University want to study even more digital data.
"For each participant, we're going to try and consider all the Starcraft games they've ever played," says Thompson.
Psychology researcher Joe Thompson speaks with Gilda Salomone about the results of his study on brain performance.
Listen
External links: