The vast majority of Canadian women give birth in hospitals and hospitals are public places with open doors, so it was not difficult for a woman to put on nurse's garb and walk off with a newborn on Monday evening in Trois-Rivieres in the province of Quebec.
However, most hospitals have security cameras so police were able to quickly publish a picture of the woman and the baby, and a description of the getaway car and to ask the public for help.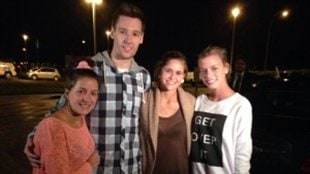 Young people went searching
The images were widely circulated on social media and television. Four young people decided to go looking for the vehicle. They found it and a woman who looked like the one in the photo, and they immediately phoned police.
Police arrested a 21-year-old woman at her home, brought her to hospital for psychiatric evaluation and returned baby Victoria to her parents. Said mom, Melissa McMahon, "Yesterday we experienced the worst time of our lives. It was a feeling that nobody should have to live through. The helplessness in this situation was difficult to accept."
McMahon acknowledged in a Facebook post that it was social media that helped save the baby, and she thanked the four who undertook the successful search.
The province's health minister has sent a letter to all hospital obstetric units asking them to review their security protocols.