It was a noble idea, but one committee's idea of what constitutes art, may not be the same as many citizens.
The council in the city of Calgary, Alberta, has voted to change its funding policy for public art, prompted by a controversial artwork last year called "travelling light", a work which popular mayor Naheed Nenji called "awful"  and further controversy over "Found Compressions 1 and 2"
​Our idea was to create a landmark for this place so people could see it from afar and give the site a strong visual identity. Most of the people are experiencing the piece while driving by so you have to work with that. Its a circle but on the other hand it has also framed the landscape from afar. I think it's a piece with a strong visual identity. We didn't want to offend anybody. We strongly hope the people of Calgary really like the piece. –—Axel Lieber is one of the artists in Germany behind 'Travelling Light'.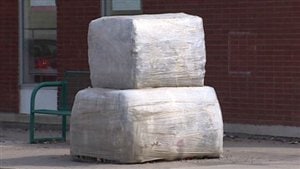 Originally the city voted to devote one percent of the cost of its capital projects to public art.
A new vote last week put a cap on that. Projects up to $50-million will still get the one percent funding, but on projects costing above that, it will be reduced to half a percent, and there will be a cap at $4-million
In addition, the public will have a greater say on what works are selected by an advisory committee.
One councillor was not happy and voted against the change. Brian Pincott said. "When we put this public art policy in place, we were one of the first to have a one per cent for public art. It's now a standard."
However another councillor, Shane Keating pushed for changes after "travelling light" was installed near the airport saying, "It had to be changed, this is a great start and the fact that we're going to review it in another year as far as funding and what's spent and what isn't, is another fabulous thing".


Controversy over "Found Compressions" public art
https://www.rcinet.ca/en/2014/04/23/is-it-art-or/
controversy over "Travelling Light"    https://www.rcinet.ca/en/2013/10/09/calgary-debates-whether-its-art-or-eyesore/